A vehicle service is a series of procedures carried for the proper maintenance at the set intervals of time for its longtime efficiency. The process is usually carried out when the vehicle has traveled a certain distance after which services are vital for safe travel and good health of the machine. The service schedule of a vehicle is usually given by the vehicle manufacturing company.
Time is changing, and people are giving so much attention to their vehicle's repairs and services in the regular period. The vehicle services log keeps a record of the services associated with the proper maintenance of a vehicle by the owner.
The services of a vehicle can be divided into two main categories:
Minor services are usually done after every ten to twenty thousand kilometers traveled. This mostly varies from one manufacturer to the other.
Major services carried out when the car travels thirty to fifty thousand kilometers, again depending upon the manufacturer.
A vehicle services record log highlights:
The total mileage of the vehicle.
Repairing parts and their cost.
Service records and dates.
Fuel consumption and records.
Safety inspections.
Replacing oils and oil filters.
Uses of vehicle services record log:
The positive points of recording down the services log of a vehicle cannot be neglected. It helps the owner in the following ways:
It keeps a record of all the previous services done to the vehicle, thus keeping a track is easy.
The vehicle services log makes it easy for the owner to access and calculate the costs of repairs and services.
If the first owner of the vehicle sells it out, the buyer can get to know about all the services previously done and what still needs to be done.
The record log warns the owner when the engine and brake oils are to be replaced for reliable running and fuel efficiency.
Vehicle maintenance is a very good practice and it helps the owner to maintain his car for all kinds of weather changes and makes it environmental friendly as well. A properly maintained vehicle will consume less fuel, safer and will last longer.
About Template
The vehicle service log template keeps track of repairs and maintenance. It has all the essential listings like date of service, mileage, operations, and cost. In addition to vehicle maintenance work, the log can be implied to maintain an upkeep schedule. These logs are available online as free templates what you need is to download and customize it with the provided free options. Get a print and file it for future additions.
Keeping a personal vehicle needs some responsibilities. You have to keep it safe and locked when you are not using it and you have to maintain it properly for a smooth driving. The latter is essential as vehicles are costly machines which must be in a proper running condition, otherwise, it demands extra cash on repairing as well as become a nuisance if stops during a drive.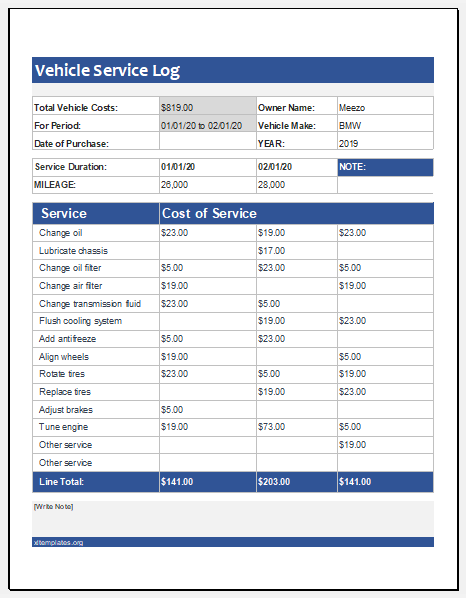 File: Excel (.xlsx) 2007/10
Size 19 Kb | Download
---
To keep the vehicle upgraded, you need to service it on a regular basis and for this, you must maintain a record of the service which will help you to know when again is the service required and how much money you need for timely service. Additionally, this service log will help you when you plan to sell your vehicle.
You can present it to the prospective buyer, showing that you have kept your vehicle in functional condition and it is still in a state to move efficiently. This will also serve as a guide for your mechanic who is identifying a major fault in your vehicle.
---