Disasters can happen anywhere and you need to deal with such emergencies in a way that you should not lose anything in replacement. For this, you have to design an effective family emergency plan. To plan such a serious topic it is better for the family to sit together and work out, the first thing in a family emergency plan is that you have to set a system of emergency alerts and alarm among your family to get aware of the emergency.
your local state office will help you develop such alerts. The other thing is writing all your contacts like address, phone, e-mail or social media sites on a paper to get it recorded for the emergencies. Select a good location which is familiar to each and every member of your family even for your disabled member. You must check for your pet choice also. Remember the location must have a safe and protected environment. Emergency supplies and emergency tool kit should be kept at hand to deal with them.
What is a family emergency plan sheet?
It is a document in which you can input the information relevant to your family that can be used in case of emergency. This sheet helps the user make a disaster management plan quickly. The purpose of the sheet is to let the user know about the possible vulnerabilities.
It is the vulnerabilities you are required to know about in order to be able to make a perfect family emergency plan. This plan sheet describes how everyone will communicate with each other in case of disaster. In simple words, the family emergency plan sheet is used to prepare a person to handle the risks and problems that he may encounter during a disaster.
You can write a note about the family emergency plan in your family emergency sheet, and you can take help from the internet to browse pre-formatted templates which are beautifully designed to give a background for your family emergency plan worksheet, Infographics can be incorporated into these designs to give the sheet a more presentable view. It would be better to add a map in such a sheet to show the locations where the family will gather in case of any disaster.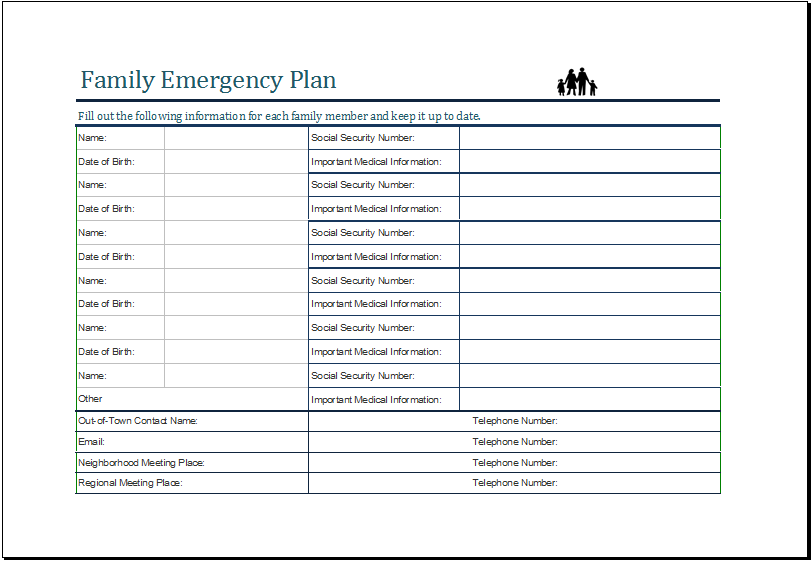 Download your file below.
Family Emergency Plan Sheet Template
File Size: 41 KB
Download
What are the benefits of the template?
With the help of this template, one can easily make communication, and, in this way, every member of the family stays informed. Since the purpose of the template is to prepare the person, it enables the person to figure out what types of disasters are more likely to happen and what should be done in case of occurrence.
The template is also helpful in making a detailed plan about how each family member will communicate with each other in case they get separated. There is a sheet in the template where the contact numbers of every member are noted. There should be multiple ways mentioned in the sheet that can be used.
There should be a plan related to evacuation. Each member of the family should know where to go in order to escape the danger. The evacuation plan is very easy to make if you are using a family emergency plan sheet template.
The template can also be used to practice all the things that have been planned. If you want to add any other plan to the template, you can do it by customizing it. Make sure that you keep updating the template with new plans and new emergency kits so that you and your family don't face any problem in an emergency.
---