Every business depends upon the customers. The marketing, advertising, and the manufacturing could go in vain if you are not able to grip and hold the attention of your customers. It is necessary to understand the needs of the customers while you make any product. If it is priced too high, the customers won't purchase it. If the material quality is substandard, the product won't be able to sell itself.
A customer feedback is basically composed of reviews and suggestions about the product whether it is a gadget, an app or even food. It includes the improvements in the features that the customer wants you to make.
Why do we need a customer feedback form?
All the guys working in the manufacturing and advertising know what it takes to make and sell a product and to maintain the sale as well. It is necessary that the product meets the standards of quality and efficacy.
The customers must know that the product is worth their money. The customer's compliance and satisfaction are the major goals of every company. A feedback form is given to the customer to get his reviews, the improvements needed in the product, to maintain the percentage of customers and mist of all to grow your business.
Keynotes of every customer feedback form:
You have to touch every detail while making a feedback form. Walk in the customer's shoes while asking questions. The few key components and questions that should be asked from the customers are:
What was the date of purchase of the product?
Were they satisfied with the quality of the product?
Is there any fault in the product?
Have they found any inconvenience while operating the product?
Was the customer tutorial guide helpful?
In the case of any fault, did they contact the customer service center?
If they did, what was the response of the customer service center employees?
Were the query and fault were solved or not?
Ask for the suggestions and the improvements if any.
A template of the customer feedback created with care from our professionals is given below. You can use it for your convenience.
Preview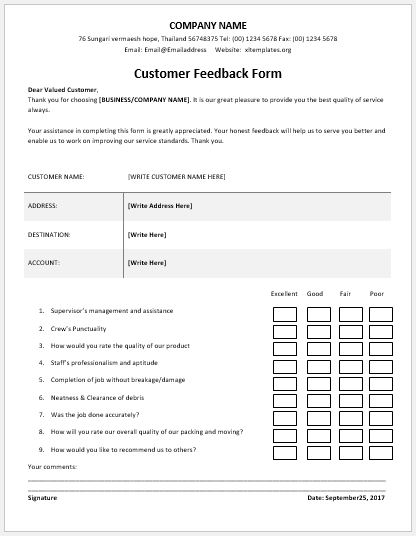 Customer Feedback Form Template
Format: MS Word
---
---