A payment requisition form sounds like something formal. These forms are important and need to be made carefully so that all involved know what is needed.
What is a Payment Requisition Form?
A payment requisition form is a form that a department makes requesting permission to pay some bill. The bill may only be paid at the time that the form is signed.
If you need to create a payment requisition form you can consider the below details:
Microsoft Excel– The payment requisition form can be created in Microsoft Excel.
Heading– Give the form a heading like "Payment Requisition Form."
Requested by– Give the name of the person clearly.
Approved by– State the name of the person here.
Authorized by– Give the name here.
Date– The date below the above three points needs to be given. It needs to be known when the request was made when it was approved and also when it was authorized.
Payable to– A slot for this should be present.
Amount– Give the amount clearly.
Payment due date– This date should be provided. The billing date needs to be given also.
Table of transaction description and purpose– A table should be created that states the transactions involved and why they occurred. This is important so that those involved know of these in detail. After this have a column of the amount that gives the amount next to the description. This will allow everyone to know where money was spent. A row of total will be given at the bottom.
Table of cost allocation– This table will have rows with the following headings, account number, account name, amount, memo, customer job or funding source, class or program. At the bottom will be a row of the total. These tables are important because they allow all involved to know where money was spent and where payment needs to occur. Therefore they need to be clear and in detail.
Attachments– Attachments of all supporting documents concerning the form need to be given. This includes invoices, receipts, statements, etc. that will help know where the payment was involved. It is necessary to state this on the form so that it is known what has been attached.
Advantages of a Payment Requisition Form:
The advantages of a payment requisition form are the following:
Allows one to clearly and in detail state where any expense occurred that needs payment.
Lets the person who needs to give the payment know where money was spent and how much needs to be paid in detail.
Can be used as proof later on if any issue occurs.
A payment requisition form is a formal and professional form and therefore needs to be made with care and in detail. It lets one get paid for those things that the company or business has ordered. It needs to be made clearly so that it is known where any expense occurred. The above points can be considered when creating this form.
Preview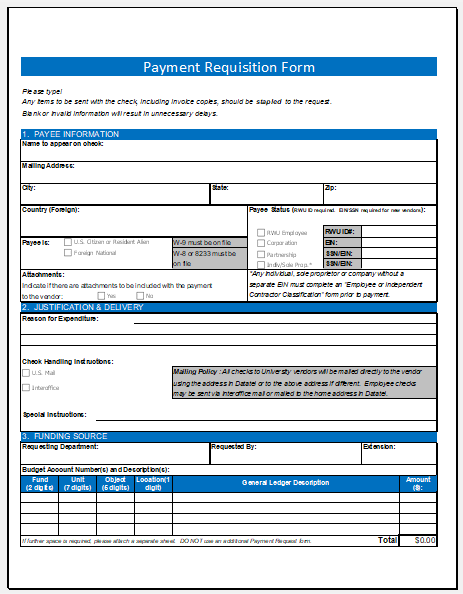 The Template
Format: MS Excel (.xls)
File Size: 89 KB
---