Weekly Time Planner?
This is a document used to jot down the details related to your activities during the whole week. It is extremely helpful for the students and even the working class. The users can write down about the upcoming activities, trips, meetings and conferences so that nothing goes amiss. This is a type of timetable that is widely used all over the world. This document can be made in weekly, monthly, biyearly or even yearly schedules.
By writing all the upcoming activities, meetings or assignments under the right day of the week, can one make sure that no activity is missed? This schedule can also be hung on the kitchen wall in order to follow the healthy eating schedule for the whole week. For students, this schedule makes sure that the study goes as the student planned while making this schedule.
Template
The weekly time planner is drafted on the basis of days of the week, It depends on how many days does a person want to include in the plan. Mostly, it is a complete weekly planner, starting from Monday and ending on Sunday. The planner is basically made of some sections or cells like in excel sheet. The days of the week are written on one side either the left side of the page or at the top. On the other side, time periods are mentioned. Then, as we used to follow the timetable in our junior schools, similarly one has to fill in the activities related to the day and the related time period. For example, if the student has to start Sunday with breakfast, he will simply fill in the relevant time period call on Sunday with the word breakfast.
So by just glancing once, he would know that how much time he is allowed to have breakfast. Make sure that the schedule has a relevant date mentioned somewhere where it is readable easily. Because dates will play an important role while following the weekly planners. Secondly, the more the planner is colorful, the more it would be easier for the follower to find his activity.
Preview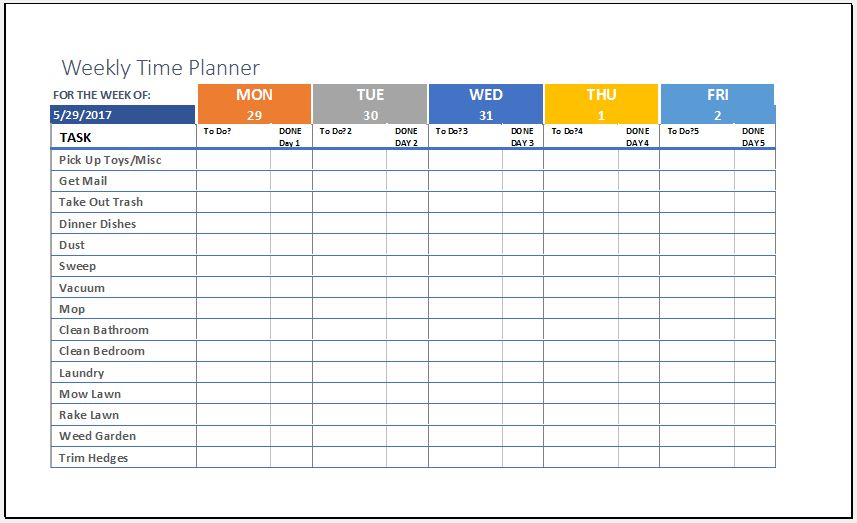 File Format: MS Excel 2003+
File Size: 54KB | Download
---
---