Businesses thrive on the services they provide to their customers and follow their reviews to continuously make themselves better. Multinational companies have designated a whole department for customer care. Employees are responsible for listening to every problem that customers face and reply with the most appropriate solution.
Small businesses have a lot on their plate because these businesses are mostly home-based and are managed by the smallest team. There are numerous tasks that go hand in hand and should be catered to as a priority.
In addition to taking orders, replying to customer queries, packing, and dispatching parcels, they also have to manage inventory, order suppliers, stock items and make payments. It is not an easy task to manage a business single-handedly because every task is significant and single mismanagement breaks the entire chain.
Inventory…
Inventory is defined as all the items or goods, or materials stocked by a business for selling to earn a good profit. Businesses can be of selling raw materials for a product or selling a finished product. It is important to maintain inventory on regular basis otherwise stock might deplete, and orders will not be catered to in a proper way. It may create a mess that will be difficult to control. Many businesses manage inventory spreadsheets to list all the items and their quantity to make sure they have enough in stock.
Inventory spreadsheets are very simple listings of items along with their related information to keep a check on all items available and when they will go out of stock. After every order is dispatched, the inventory spreadsheet is updated to inform about the item going out of stock.
Small businesses always keep a keen eye on the number of items because they have to make sure that everything is updated beforehand to keep themselves from embarrassing situations.
Template
Templates of inventory spreadsheets can be easily availed from the internet. The Internet provides a variety of templates and one can be chosen based on the requirements of a particular business. It can also be designed because of its simplicity and easy design. It is designed on an Excel sheet thus helping in creating lists without any issue.
The template of the small business inventory spreadsheet is given below,
XYZ Business
Date: __/__/__
Owner's name: ………..
| | | | |
| --- | --- | --- | --- |
| Item | Quantity | Date of expiry | No. Of orders |
| | | | |
| | | | |
| | | | |
| | | | |
There are many positive aspects of using spreadsheets for maintaining the inventory of small businesses. Its significance can be evaluated from the following points,
It helps in maintaining the desired quantity of items in stock to avoid any delay in orders.
Inventory spreadsheets are very organized and depict a clear picture of the current situation.
These spreadsheets can be referred to if there is a need.
The inventory spreadsheet is composed of columns that can be customized on demand.
These spreadsheets can provide a lot of information about a business if they are customized in such a manner.
In addition to inventory spreadsheets, orders and other spreadsheets can also be customized easily.
It protects the business from becoming a complete mess and hindering the orders.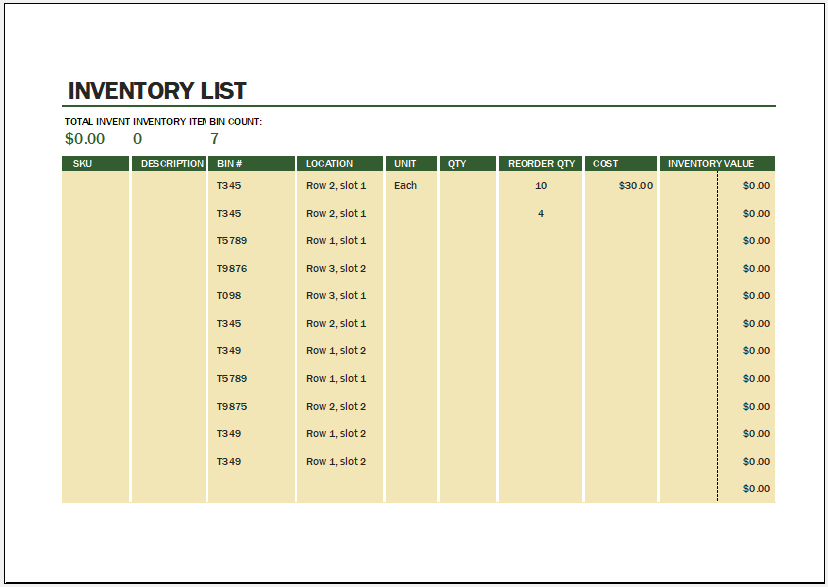 ---