Training children and making them better individuals is what we all want to achieve in our life. Whether we are parents or teachers of a child, it is our responsibility to make the new generation behave well. To correct the behavior of children, different tools are used. One of the most commonly used tools is the daily activity reward sheet.
It is a type of chart in which a description of rewards is given. These rewards are generally based on activities children perform daily. The reward is written in front of the activity that enables a teacher and a child to see what they are expected to get if they perform that particular activity.
How are daily activity report sheets useful?
They make children behave:
These sheets are a great instrument for keeping children motivated. It can be pasted on the wall so that every child in the classroom can see it. The activities that are generally performed by them include saying thank you to the teacher, sharing their meal with their classmates, and talking politely in the classroom.
When they know they are going to get the reward for performing these activities, they are automatically driven toward them. Gradually, these activities become a part of their personality and they start behaving like good human beings.
They help a teacher maintain discipline:
When there are so many young souls in the classroom who don't know how to behave, it becomes really difficult for a teacher to maintain discipline in the classroom. The rewards scheme is always considered to be best for instilling good qualities in others. When children know that they can get what they want only if they behave in a certain way, they try to act like disciplined individuals.
It fosters effective learning in the classroom:
If there is no discipline in the classroom, there will be no learning. Since the activity reward sheet makes everyone disciplined, children tend to learn more effectively. In addition, apart from learning the curriculum content, learning to behave is a big achievement for a child.
It enables children to turn into well-mannered adults:
Habits that are developed in childhood help children turn into helping and supportive individuals. So, we can say that this award sheet has a long-lasting impact on children. Not just teachers, but parents can also use this sheet when they want to reward their kids at home.
Use the template for ease
If you are not able to use the template in an efficacious way, you will lose the purpose of having it in the first place. Therefore, for making the best of this tool, it is important to follow the right practices. Some of them are given below:
Consider the age of the child:
This reward sheet requires the user to add the list of activities to be performed by children and the reward that will be given to them. Therefore, the age of the children is a very important consideration. You cannot make them perform activities that they are too young or too old for. Similarly, the rewards should also be age appropriate. Because, if the reward is not what a child wants, he will not perform the activities.
Make a format:
The reward sheet should be designed in a proper format. You can divide the sheet into various columns and then fill each column with the required information. You can decorate the borders of the sheet to make it look more colorful and aesthetically appealing. When a sheet is attractive to children, they are more likely to follow it.
Use the template:
As a teacher, you may not have enough time to design reward sheets. Therefore, you are recommended to use the template. The template is the best way to get your hands on a sheet that you would have prepared after wasting a lot of time.
The websites that provide templates also provide the feature to edit the template and download it for later use. The teacher can change the format, modify the file type, add the class and school name and do many other types of customizations.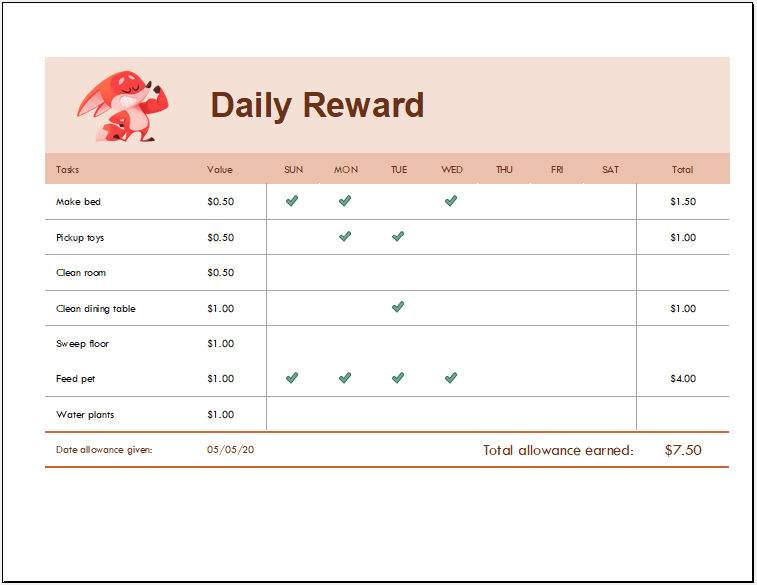 ---