What is cash flow projection template?
The cash flow projection template is the mandatory need of all organizations and business. It plays a key role in the survival of the business. It is a great source of prediction that either the company has ample amount of cash or not for the meet of company's obligation. One can have a view of the projected cash flow of the monthly balance.
Cash Balance Alert Minimum:
The identity of the company i.e. the company name and company logo are mentioned on the template. It is designed in a professional way which contains all the mandatory fields mentioned on the sheet. It also states the cash balance alert minimum and the starting date. Many of the business, companies and organization has to taste failure and loss. One of the main reasons behind their failure is cash flow problems. Ensure it properly that your company would not be a victim of it by maintaining the cash flow projections in a well manner.
Cash On Hand:
The amount of cash that the company have should be mentioned so that the company would be aware about the balance which they have in their hands at the beginning of the month.
Cash Paid Out:
The amount of the cash that has been spent during the whole month for the company use is mentioned on our format such as contract labor, office expense, advertising, insurance, employee benefit program, travel, repair, rent, purchase of equipments etc. It is great in having the knowledge regarding the total amount that is paid out in various tasks. The balance left at the end of the month makes the company know that how and where the cash flow needs to be controlled.
Cash Flow Projection Template in MS Excel Format:
The companies should keep control of the cash flow. Design of cash flow projection template in a highly professional way that would benefit the companies.
EXCEL format: Fill all the details regarding the starting balance and spent amount of various expenditures to view the cash flow in the Microsoft Excel sheet.
Printable feature: PRINT the sheet as per your requirement.
Multiple uses: Multiple users can use this sheet.
Professional design: The template can be used at a professional level with ease.
Customization: Make suitable changes as per your personal requirement.
Preview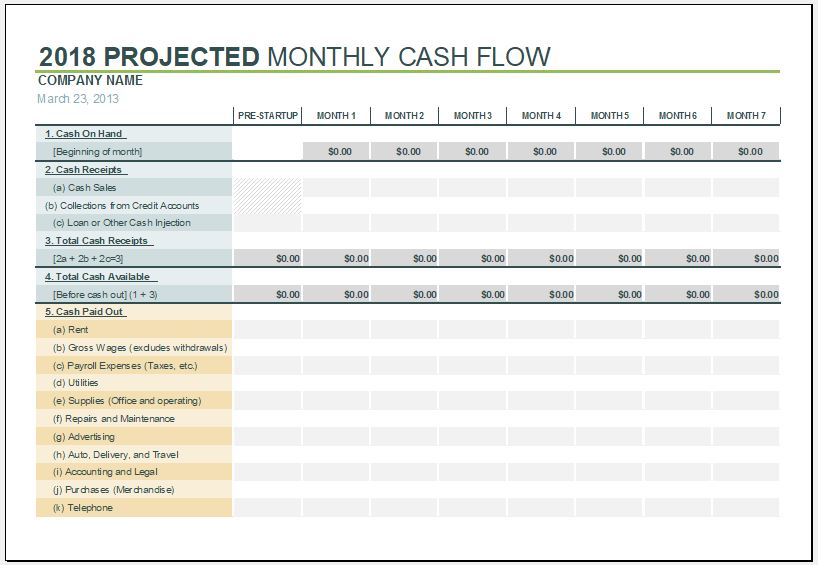 ---