SERVICE INVOICES
The business only flourishes when it is spread across the globe and it will spread across the globe only when you will travel for this purpose throughout the world. Travelling from one place to another in order to set up your business branch in another place is very important nowadays as the market has become very competitive. This business purpose travelling helps in attracting new customers as well as it also attracts new investors and vendor to invest in your business. There are many travel agencies who help the business men in their business purpose travelling by providing them some offers and packages.
As we know service invoice contains the details about the purchasing of inventory or services and keeps a record of its quantity and name description. Similarly, travel service invoice is a document that travel service agency provides to its valued clients on the purchase of travel services. It enlists the details about what and when the client has to make payment for the travel services.
TRAVEL INVOICES
Travel service invoice is basically a way of documentation that keeps a record of booking of both traveler and the travel agency. It may include the date, mode of travel, the invoice number, the total no of travelers, the payment date and the details about the services.
This documentation can be either done manually or it can also be done on a computer using a software usually MS Excel. Nowadays, it has become very easy to personally design travel service invoice, In fact, it is available on the market in the form of a ready document.
TRAVEL SERVICE INVOICE TEMPLATE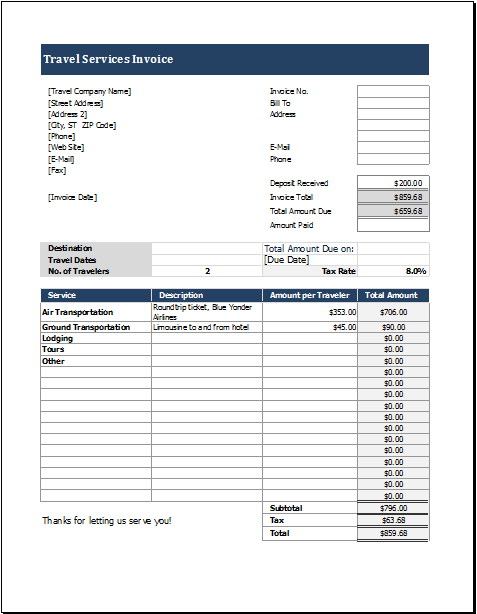 Download your file below.
File Size: 30 KB
Download
---