Most of the industries use the tools and equipment in order to manufacture different products. These tools are frequently used by the companies. As the tools are used more frequently, it is important for the industry to keep track of all the tools and equipment which is available in their warehouse.
For this purpose, many industries prepare a register in which, they note down the different details regarding the tools.
A well-maintained inventory is very important for a business. It ensures that the business has the entire inventory that it needs.
What is tools and equipment register?
It is a document in which all the tools are recorded. It is very beneficial to use the register because it enables the business to know the tools in its possession. It also enables the business to know the tools that are damaged and need repairing.
The main purpose of these registers is to never let the business run out of an important tool that can affect the productivity of the business if not available.
The registers are also helpful in determining the total value of the inventory. Sometimes when the business wants to know the value of its assets, it consults the tools register as the details about every tool are written in them.
Register template:
The template for registers is a very handy tool that has been designed to meet the needs of every type of a business. However, if you find that the template is not meeting your requirements, you can simply modify to make it appropriate for you.
The template allows the user to input the details about all the tools available in the warehouse. Generally, the details that are recorded are
The quantity of each tool
The unit price of each tool
Description
Subtotal and total
Sometimes, the business prepares a register and hands it over to the seller while purchasing the tools and equipment. This professional looking template fulfills most of your needs and is best for you if you want to save your time and money.
Preview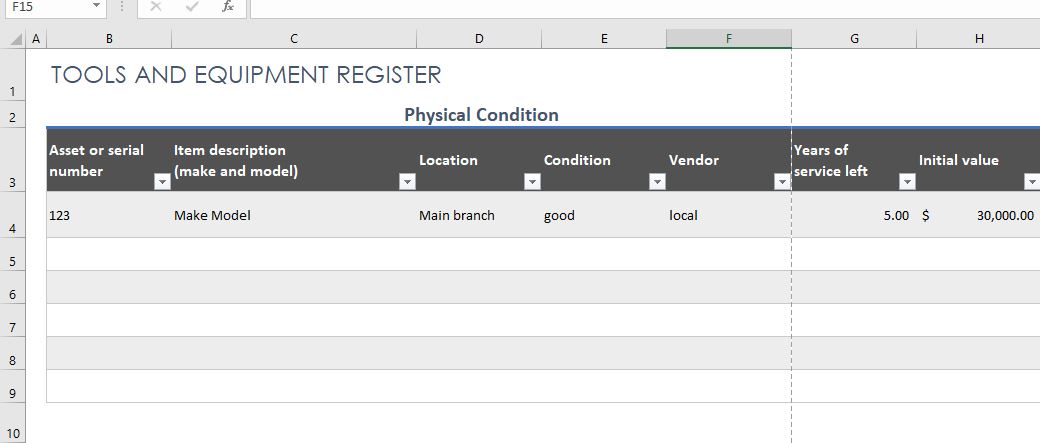 Format: [.xlsx] | Download
---