According to research, the average age after which everyone plans to retire is generally from 65 to 67 years. Making the decision regarding retirement is not so easy.
What is a retirement checklist?
A retirement checklist is a helpful tool for you if you are thinking about what to plan before you actually retire from the job. As a matter of fact, nobody wants to be retired from a job with a financial crisis. Planning everything ahead of time can help you avoid the situation of financial crisis.
The retirement plan includes the following to set real-life objectives, starting their own business, writing a narration, traveling abroad or social working. Only a few retirees actually accomplish any fruitful task, the foremost consideration is a residence. It may happen that some accommodations are provided by the employers, so you have to leave it or if you are living in a big mansion then think that whether you are able to maintain the living after retirement or not.
You need to check your financial standings if your retirement is near including pensions, accounts, and provident fund. You should know about the loans you owe. You must plan something that from your reserves you are able to generate a flowing income might be of lower value but a continuous income is inevitable for a comfortable lifestyle. Look out for the social security provision and to what percentage you are eligible. Consider how you'll handle un-disputable expenses in retirements such as illness or repairs.
It would be better to have a health check and your health insurance must be updated. Though it sounds bad it is better to Prepare or revises your will. For such purposes establish a power of attorney and an advance health edict to avoid future glitches.
The above-mentioned checklist serves the retiree or the to –be a retiree to set up a plan for retirement. This will benefit in leading a convenient lifestyle. To prepare the checklist you can use free templates for retirement checklist downloaded from websites. Customize this checklist according to your need and get a print.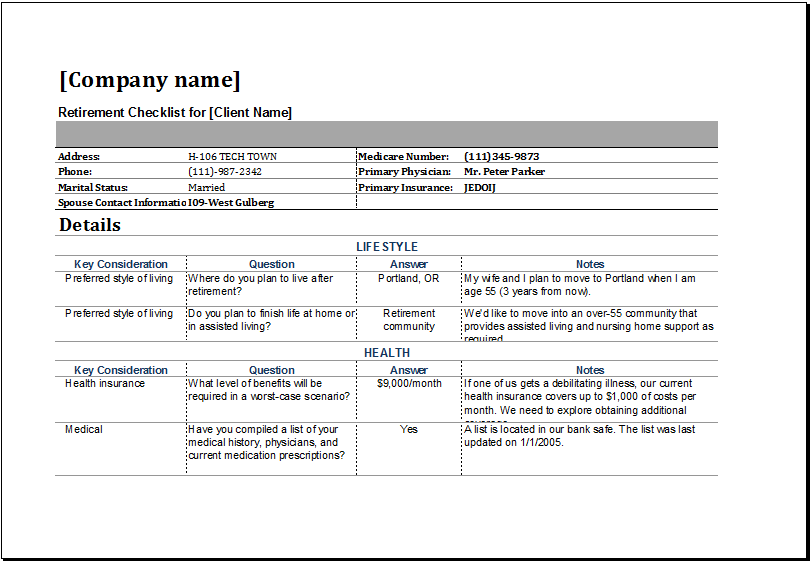 Download your file below.
Retirement Checklist Template
File Size: 31 KB
Download
What are the benefits of a retirement checklist?
The benefits one can avail by using this tool vary from person to person. These benefits usually depend on your job, your circumstances, preferences of the employer and a lot more. However, there are some common benefits which are:
The first thing every person should understand well before retiring how financially stable he is. For this, you should consider your income, income statement, balance, and insurance policy. The retirement checklist enables the person to consider his account balance before retirement so that he can spend a comfortable life.
Another thing that a retirement checklist diverts your attention towards is the debt. A person should never retire with the burden of debt on his shoulders. He should accept the fact that his not going to receive the paycheck after retirement. Paying off the debt with the pension will be very hard. So, the checklist reminds the user to get rid of all debts before retirement.
The retirement checklist also enables the user to determine his needs after retirement. He can then manage everything accordingly to fulfill all his needs.
Key features of the retirement checklist template:
The retirement checklist template is available for free download. This template contains all the tasks that a person is required to do in order to make an effective retirement plan. Anyone who wants to use the retirement plan should keep this fact in mind that the checklist should be used at least 4 years before the retirement since sometimes, the planning gets a little complex that makes everything time taking.
---