What is a fun signup sheet?
A signup sheet is a document that is used by people to sign their names and provide their contact details. In this sheet, those who sign up have a specific purpose. The fun signup sheet is used when there is a fun activity going to take place and people are highly willing to participate in it
How to use a fun sign sheet?
This is another type of signup sheet which is used in only specific situations. People who organize activities such as parties, games, etc. just for fun usually use these sheets to keep a record of how many people are willing to join that activity. These sheets help the planners determine how they should plan everything since most of the time; the planning depends on the number of people wanting to participate in that activity.
How important it is to use a fun signup sheet?
Everyone needs to take a rest and relax after they get a break from their hectic routine. This is what holidays are meant for. However, a weekend is also sufficient for people for mental relaxation before they go back to the grind.
In general, businesses in their start-up phase organize such fun activities and try to ensure that maximum people join them in these activities so that they can effectively promote the business. For this purpose, they run marketing campaigns letting people know about the event they have planned to organize and people's participation in it.
If you are the one who has been tasked to organize the fun activity for a group of people and you want to know who is interested in joining you, you can use the fun signup sheet. This sheet is a simple and very useful tool that collects information about every participant seamlessly. People provide their contact details in the sheet letting the party organizers know about their plan to attend that fun activity.
What are the advantages of using the fun signup sheet?
A signup sheet comes with lots of benefits. Let's discuss a few of them:
Since these events are organized for marketing and promotion purposes, businesses always want to increase the turnaround. This is usually possible by the use of a fun signup sheet. A corporate or company sends this sheet to all the prospective customers. They find it easy to sign up through the sheet instead of calling on the numbers of the company or sending an email which consequently increases the turnaround.
They help in event management:
A company keeps a record of every person who signs up. In this way, it knows how many people it can expect to join the event. With this, event management becomes easier. Those who work for the management of the event usually take information from the signup sheet.
They help by sending reminders:
When a customer signs up for a fun activity, he provides his contact details and other personal details. These details are saved in the database of the company. The company then sends reminders to the customers about attending the event as the date of the event commencement approaches near.
This becomes an additional service of the business that shows how much a company takes interest in making its customers satisfied and at ease. Therefore, a fun signup sheet for this purpose must be used always
Template for the signup sheet for a fun activity:
If you need a ready-made sheet that helps you extract the details of lots of interested people, a template for this sheet is the best option for you. The sheet is usually prepared in MS Excel sheet. However, you can use other formats also.
The template provides a pre-designed sheet that requires the user to input his details. The company that wants the signup sheet to be used adds the details to the template such as the name of the company, details to be collected, and then issues it.
If you can conveniently use the template, you will be able to produce the best signup sheet out of the template that can share on different platforms for eliciting important details.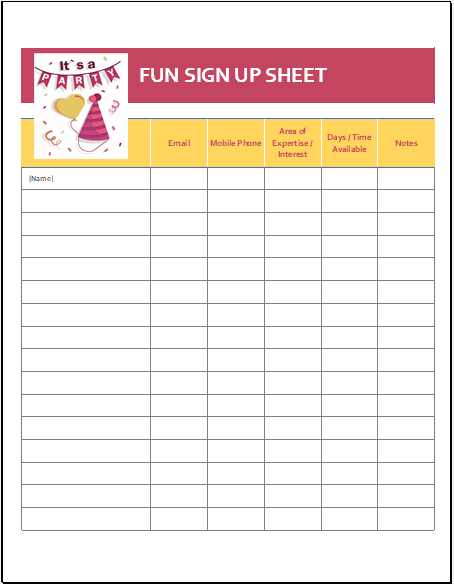 ---