Tracking the expenses with the help of credit card helps the credit card owner take full control of debts. He also becomes able to pay the high-interest rates easily when everything is kept under consideration. The spreadsheet template provides the best and simpler way to make the calculations with ease and accuracy. The spreadsheet template used for credit card tracking provides details about the debts and also enables the person to make wise decisions regarding credit card payments.
How to use the credit card template?
Here are a few steps that can be taken in order to effectively use the template and increase the productivity of this software
The first thing you must do in order to use the template effectively is to download it. The template in Microsoft Excel is used for this purpose that makes the calculations accurate and automated.
After downloading the template, you will have to schedule the tracking of all the credit card details. Many people may have multiple credit card expenses to track. Payments of multiple credit cards can be handled through the spreadsheet template easily. You can schedule to make payments on a weekly, bimonthly or monthly basis.
There are total six columns in the template with heading date, credit card type, interest rate, card balance, the projected amount of payment and actual payment.
Input all these details in the spreadsheet. Ascertain that you have mentioned all your credit card details at the left of the spreadsheet.
Multiply the balances in your credit card account with the rate of interest and then decide what you can pay. The template has pre-defined formulas that perform the calculations automatically with complete precision.
Make the payment according to your affordability. Make sure that you update the spreadsheet each time you make the payment.
What are the benefits of using credit card tracker template?
The template comes with following benefits:
The template enables the person to keep track of credit card balances.
The person having multiple credit cards can keep track of utilization of each card he owes.
There is a limit of utilizing the credit card. When the user exceeds that limit, the template starts warning him so that he can control his credit card utilization
If the credit card of the user reaches the high risk of utilization, the template informs the user about it.
The template also keeps giving different warnings and suggestions to the user when it comes to using the credit card effectively
When the user makes the payment, the utilization of the card changes. After each payment, the template calculates the change in utilization and then informs the user about it
The user can download the template which is readymade and contains different columns for collecting sufficient information in order to keep track of credit card balance and its utilization. The user is not required to put many efforts while using the template that saves his time.
Preview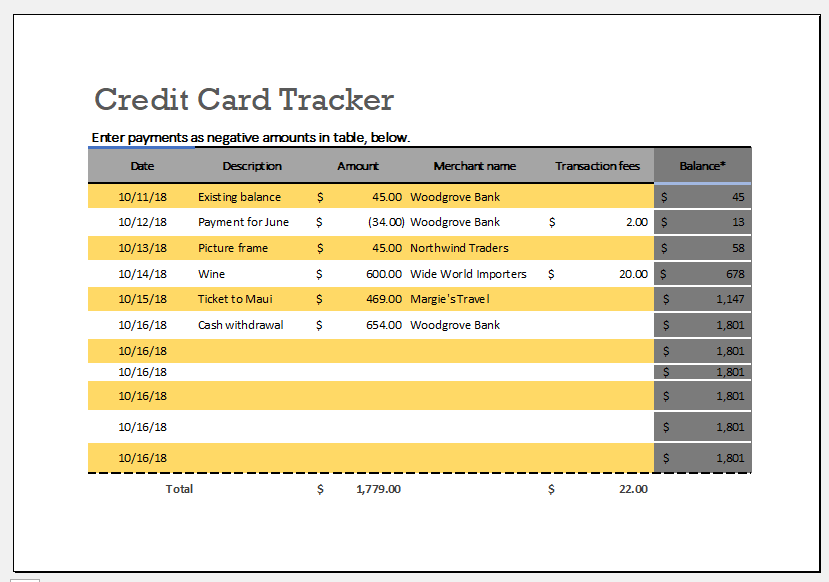 ---