Educational institutes of every country do not only focus on the academics of their student, but they also put emphasis on extra-curricular activities because these activities focus on sharpening the mind and providing physical health. Non-academic activities may include parties, festivals, trips, sports events, etc. All these events are arranged by students after the permission of the administration.
At colleges, students cater to all the tasks related to conducting an event successfully. These tasks are tedious and to do these with normal academics is very tiring, but they teach students about multi-tasking, handling pressure, taking decisions, and experimenting with something new. It keeps their morale high and is also awarded appreciation and support from their administration as well as colleagues.
For maintaining a balance between the assigned budget and the arrangement that is required for an event or party. It is not compulsory to buy a lot of stuff because leftovers of previous functions can be used again but it requires a lot of thinking and effort to spend the budget on the most important things.
A college party budget worksheet is a document that is used for planning and organizing expenses for a college party. It requires all the major tasks that need money for completion. A budget worksheet not only includes the money spent but also includes a list of all the tasks that are required for a successful party.
The layout and column entries of the worksheet…
The layout and column entries of the worksheet of party budget worksheet include all the tasks that are necessary to carry out a party and the money spent on conducting those tasks. The general details of a budget worksheet are given below:
List of tasks
Money required
Total budget
Cost of individual products
Name of organizers
Theme of party
Size of party
These contents may vary depending on the size and budget of the party, but the above-mentioned detail is generally added to a budget worksheet.
Worksheet sample for MS Excel
A sample of a simple college party budget worksheet is given below,
Budget Worksheet
Theme: [Party Theme]
Organized by: [NAME/class or Section etc.]
Date: [DATE]
No, of attendees: [X]
| | |
| --- | --- |
| Category | Cost |
| Decoration | |
| Food | |
| Games | |
| Entertainment | |
| Tables & chairs | |
Layout
Total: $[amount]
Signed by: [Signature]
A typical budget worksheet may vary from college to college, but it is similar to the above-mentioned sample.
Few reasons to use the worksheet
Budget worksheets are considered significant because of the following reasons,
These are easy to maintain and can be extended on demand.
The addition of columns adds an organized look to the whole worksheet.
Data can be entered manually in columns depending on the category.
It keeps the organizers conscious of the budget and refrains them from overspending.
It helps in allocating a specific budget for every task of the party.
Mostly, organizers are responsible for handing over worksheets to the administration therefore, it is important for them to be tidy and organized.
The worksheet template can be downloaded from this page to beautify it further.
Miscalculations can be interrogated easily.
The categories can be divided into subcategories to further break down the amount spent e.g., the category of decorations can be divided into flowers, balloons, pompoms, ribbons, etc.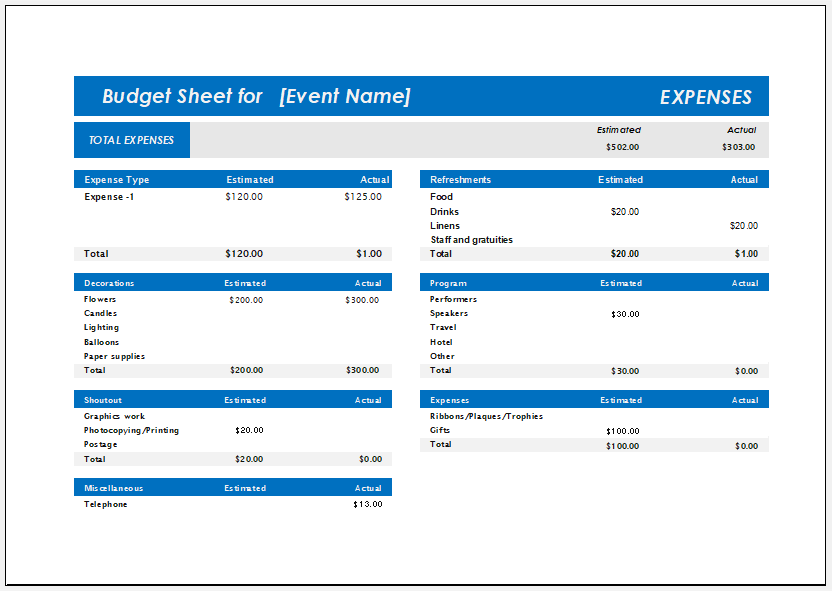 Excel Templates
---