What is net salary calculator?
No matter either you are self-employed or an employee of a reputed company or organization, it's one of your prime responsibilities to pay your taxes on time. After withholding of tax, the employer should release the paychecks to their workers and staff of the office. People, especially those who are running small firms have to face the problem that how to calculate such amount and keep the record.
The net salary calculator template is a convenient and automate away, which facilities in the calculation of salaries. The employer has to calculate the tax and also deduct this value from the gross value. It also provides the facility to the employer to declare the other sources of income and you are supposed to pay taxes on the net income which you earn from all possible sources.
Details Mentioned on the Templates:
We aim to design the net salary calculator template in the most efficient way. Hence, we leave no stone unturned in adding all the mandatory fields and options in it along with the proper identity of the company such as company name and its logo. Now you can maintain the deduction and pay records. The additional information required is:
Taxable amount
Gross pay of an employee which is calculated before deduction
Taxable benefits & expenses
All statutory payments made
Net Salary Calculator Template in Excel Format:
The companies should be well aware and up to date about the net salary calculator to enjoy the benefits. Few features of the template are
EXCEL format: Fill all the details regarding the tax and gross pay in the Microsoft Excel sheet.
Printable feature: Print after you fill all the details
Multiple uses: Use for as many people as you want.
Professional design: The template has professional features that can be adopted by any company. It has all important fields which help in payroll calculation.
Customization: Completely customizable template with all necessary details.
Preview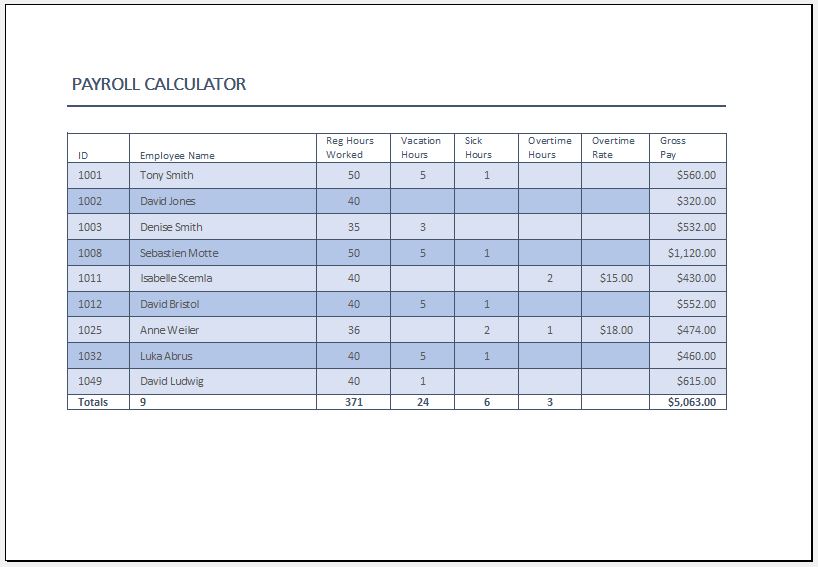 ---