HOUSE CLEANING & MANAGEMENT
A house is a place where an individual can relax and spend some quality time with his or her family and close friends. This house entertains a lot of people on a regular basis and has seen a lot of ups and downs. This house has been a friend in need and is always there. It is the duty and the responsibility of an individual that they make sure that their house is clean and spick and span so their house is maintained.
The cleanliness of a house is important as it not only makes the house look gorgeous and beautiful but also prevents various ailments and diseases from spreading. The cleanliness of a house should be an important aspect and should be given a lot of consideration. To make sure that the house is cleaned thoroughly a house cleaning checklist should be made which not only lists down everything that needs to be cleaned but also helps in cleaning the house systematically and in a more rigorous manner.
This house cleaning checklist can be divided and subdivided into various parts so that the whole checklist is easy to understand and tackle. It can be divided into columns which are allotted for writing down the tests and then for tick marking. Many people prefer to scratch off an item when it's done. This isn't just untidy but makes the whole checklist useless after being used for just one time. That is why it is advised that 2 colored pens be used, one for writing and one for tick marking.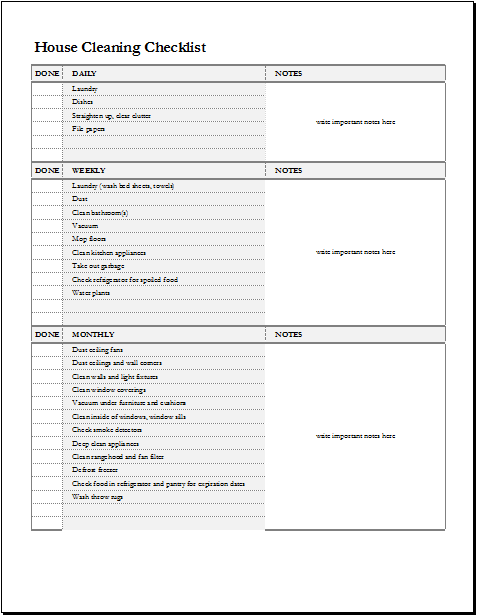 Download your file below.
House Cleaning Checklist Template
File Size: 147 KB
Download
---