What is a profit and loss statement?
A profit and loss statement which is also known as an income statement is a document that documents all the expenses that your business has incurred and the revenue it has generated. Every profit and loss statement has a specific time period to cover. Some statements are created for a month and some are created for six months.
Why is the profit and loss statement used?
This statement is used when a business wants to know certain things about its business. At times, a businessman needs to know how his business is doing.
This statement helps him to determine the losses the business is facing and the profit it is making. Based on this information, certain essential decisions are taken. For example, with this type of income statement, the businessman is in a better position to determine in which area the business needs improvement. He can also figure out whether the performance of the company is satisfactory or not.
What is the objective of using a profit and loss statement?
Every company has its net profit and loss that is usually created at the end of the year. People, particularly investors like to see this information so that they can decide whether the said company is worth their investment or not.
If the company makes a good profit, reinvesting in that company is the best idea. However, if the company is going at a loss, then the investment should not be made in that company.
To put it another way, the profit and loss statement indicates to investors what they ought to do and what they ought not to do. Additionally, there are certain decisions of the business that are completely based on what information the profit and loss statement provides. Some of the common decisions that are taken with the help of this income statement include:
How a business is performing and whether the business is in a position to buy new shares?
Should a business hire new employees?
Show a business start a new project or work on previous projects.
Does a business need improvements? If yes, what kind of improvements?
What changes should be brought to the business to make it attractive to investors?
When to use the profit and loss statement?
The profit and loss statement is required to be used by every business after every specific period. Usually, after every quarter, every businessman wants to review the overall performance of the business. In that situation, it is required that the businessman uses a profit and loss statement.
Another situation when there is a need to prepare this statement is when a business tax return document is required to be created. Since how much tax a business is liable to pay depends on the income it generates in a particular period, this document is a must-have in certain situations.
When someone is trying to start a new business, he or she should be able to show the projected profit and loss statement. According to this statement, it can be seen that the person getting ready to start the business is expecting a particular amount of loss of profit in his business. This lets everyone know whether the prospective businessman has a realistic approach or not
What information is required to prepare this type of income statement?
The profit and loss of business depend on lots of factors. Additionally, the calculation of profit and loss also entails some details to be taken into consideration. Typically, a profit and loss statement include the following details:
A complete list of transactions a business has carried out in a given period. This list tells the cash flowing in the business and the cash flowing out.
Details regarding the petty cash transactions are also mentioned in this statement. This information also tells a lot about the profit and loss a business faces.
Total income of the business in a reported period. In this section, all the sources of income are mentioned along with the total amount received.
Any type of discounts, returns, and other reductions should be documented in the same document.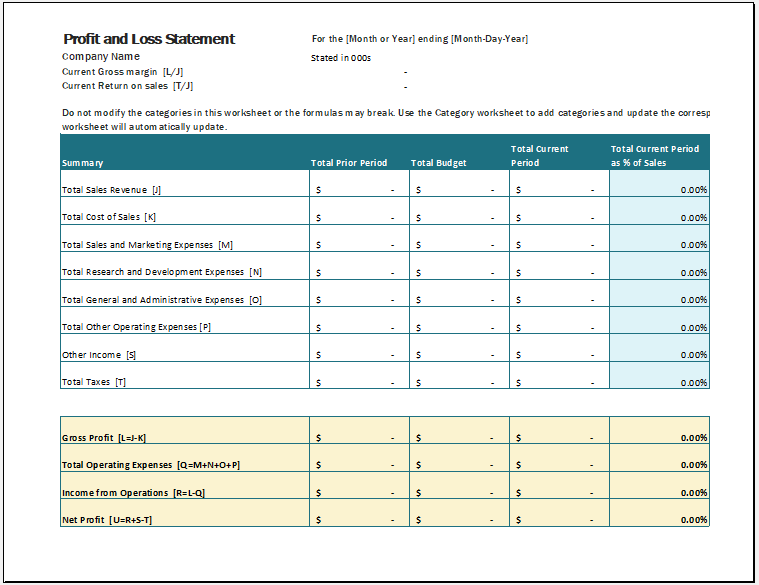 provided by templates.office.com
---