A small business usually will work carefully so that they can make profits, and so that no huge loss occurs. This is because this loss may lead to the company having to shut down. It is therefore important to plan all actions. Sales leads are an important part of a business.
What is a Sales Lead Tracker Template?
Sales lead refers to the data which identifies a certain entity like a potential buyer of some product and service. A business can get access to sales leads via advertising, third parties, trade shows, proper direct mailings, as well as other marketing efforts. These sales leads can be kept track of in a small business sales lead tracker template.
What to Include in the template?
If you need to make this template, you can consider the below points:
Microsoft Excel– It is simple to track sales leads with the help of this template. You can simply enter the details. The template is accessible.
Lead Data– The first page will be of the Lead Data. It will have the heading "Detailed Leads Tracker." Under this state the date. Enter your company name in the space provided; There will be a table with different columns. Lead Name will give the name of the potential company. Lead Contact will have the contact details. In the Lead Source are, you will state whether the lead was from a website, networking event, etc. Lead Region will have the region stated. Lead Type says if it is "Strategic" or "Tactical." In the Potential Opportunity column, you will say how much the opportunity could be for in numbers. Under this will be the total. Chance of Sale will have the chance calculated in percentage. Forecast Close will be next. In the Weighted Forecast, you will enter this information in figures. Under this will be the total amount calculated.
Forecasted Sales– This is the next page. It will have this heading then the date, company name, confidential. In the table will be the lead name stating the company name. The forecast will be provided for each month in the next columns. Beneath these will be a row for the Total. After this, another row will be present for the Cumulative Total.
Monthly Weighted Forecast– This is the last page. It will have the heading "Monthly Weighted Forecast." Under this, there will be a graph of this forecast showing the cumulative and monthly figures for the whole year according to every month. This is helpful and understandable.
Advantages of the template:
The advantages of a small business sales lead tracker template are:
Lets a small business have information saved on profitable sales leads.
Can track sales leads easily and may be referred to when needed.
Final Words:
A sales lead tracker template is an important template for a small business. It can help them see where any helpful sales leads are that can aid their business out.
Preview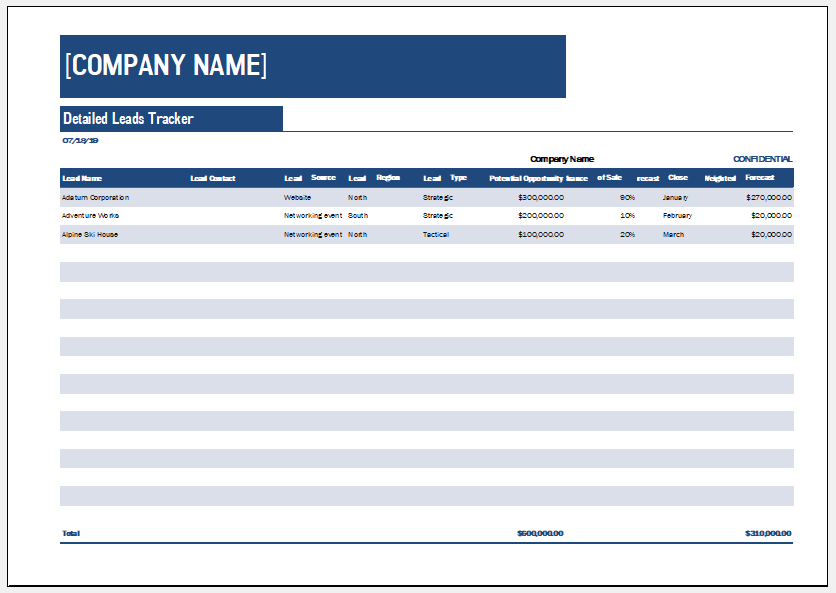 Format: MS Excel 2007/+
File Size: 59 KB
---