Whether it is an office or a house, renovation is always a tough job. These days, the renovation has become a complicated job as the designs of the building are evolving and people want more appealing designs to incorporate in their house and workplace. Due to this, experts and professional people are hired who can get this job done. For a better renovation of the building, a renovation project is initiated.
There are certain parts of the building that need to be thrown away because they are too old and outdated. Certain other parts only need a little care and attention and they again become attractive. How the renovation is to be done completely depends on the owner of the building. It is he who decides which part of the building needs renovation and how much.
What is the renovation project spreadsheet?
A renovation project spreadsheet is a sheet in which the details regarding the renovation are specified. The use of this spreadsheet ensures that several important aspects of the renovation such as budgeting are documented in the spreadsheet.
Importance of using the renovation project spreadsheet:
It has been told earlier, renovation of a building at times is a very complicated task. There are lots of considerations that need to be given to the budget for the renovation. Apart from this, renovation is done in a series of tasks. Therefore, the project manager should devise a comprehensive action plan as to how a renovation will be initiated and how it will be brought to an end successfully by staying within budget constraints.
What are the benefits of using the renovation project spreadsheet?
The renovation project spreadsheet is being used regularly because people have rendered so many benefits out of these sheets. Whether a person is naïve or an expert, he can use the sheet to do the renovation successfully. Here are a few benefits of this spreadsheet:
It helps in effective budget planning:
Renovation is usually done to save money. People who cannot afford to build something from scratch usually consider renovating it. In most cases, renovation of the building always turns out to be the best choice. Renovation helps the building owner saves a lot of money. This is possible when the spreadsheet for the renovation project is used. Using this spreadsheet, the user can keep track of all the expenses of the renovation. In this way, a concrete budget plan is made.
It helps in making an action plan for renovation:
Before you start the renovation, you should see where to start it from and where it should be ended. The renovation activities are numerous and therefore, a complete hold and control are required. Every project needs proper homework before it is initiated and so does the renovation project. When a person uses the spreadsheet, he can think of all the steps that need to be taken to ensure the successful completion of the renovation form. Through this sheet, not only an action plan is designed but different duties are also assigned to different people.
It ensures successful completion:
Many people start a renovation project without even knowing whether it will be completed or not. Due to this, many renovation projects are left in the mid. If you want to ensure that you want a complete project completed successfully, you should use a spreadsheet. This spreadsheet should tell you that you are ending at a good point.
It does not need expertise:
One of the biggest advantages of using this spreadsheet is that it does not necessitate for the user to be an expert or professional for doing work on the renovation project. This sheet is self-explanatory and people with any expertise level can make use of it and complete the project like a pro.
Renovation project spreadsheet template
If you are one of those people who need a spreadsheet in the readymade form, the template for this spreadsheet is for you. This template has been created by experts in the MS Excel file format. The user can either download the template to make it available offline or he can use it online. In either case, the template is highly useful. This template collects all the information that a user needs for completing the renovation project.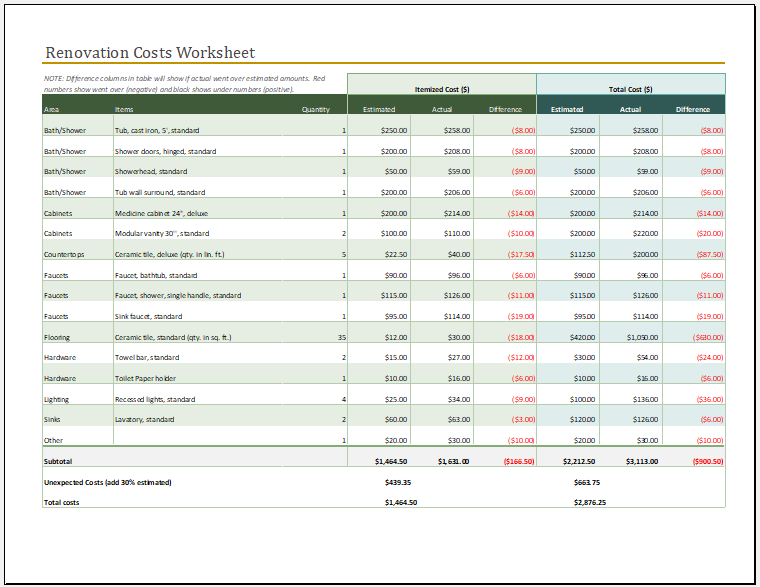 ---