Companies strive to provide better facilities to their clients through their high-end products and services. These products affect their lives in one way or another. Many companies come together to provide a better experience to their clients by sharing experience and knowledge. Clients are always considered a priority and every strategy is adopted to facilitate them.
Statement of account refers to the transactions that take place between a vendor and client or two companies doing business together. It provides detailed information about every transaction and highlights any due amount to the client.  Statement of account mostly expands for the period of a month, but they can also be made for 6 months or a year depending on the business relationship between two parties.
A statement of account is different from an invoice which only represents the information about a single transaction whereas, a monthly statement of account is the acclamation of all those invoices generated over a period of a month. The statement lists out all the invoice amounts and payments. It also indicates refunds from the vendor or service provider.
A monthly statement of account is considered significant because of the details information they provide about every transaction thus, keeping people well-informed about their account and money matters. Significance of month statement if the account can also be deduced from the following statements,
It is used by vendors form remind clients about their outstanding dues in a professional manner.
It allows clients to review their spending and avoid spending extra on useless things.
The statement provides a clear picture of their outstanding fees which can be paid earliest to avoid any inconvenience.
It helps people in saving money by avoiding the purchase of useless things.
It can be added to the collection of statements accumulated over a year or more.
These statements cannot refer to if the client is short of money or does not recall spending it.
The monthly statement of account is very simple and does not include any images or designs. It is an official document that is generated by a business and should be considered like one. Systems at different businesses or companies are enabled to generate these statements for every client at the end of every month so they are very similar except for the transaction details about a particular client. These statements are sent to respective clients in a pdf file through email. Since these statements are official documents, they can be challenged in case of discrepancies.
Contents of monthly account statements are very straightforward to facilitate a layman to understand the terms easily and can refer to the vendor in case of any discrepancy. Contents of the monthly statement of account are given below,
Name of client
Phone number
Email address
Name of vendor
Phone number
Email address
Date & month of statement
Statement number
Account number
List of all transactions
Outstanding balance (if any)
All the information on the monthly statement of account is provided to facilitate clients. These statements also mention dues that have been due beyond the limit.
Template for Excel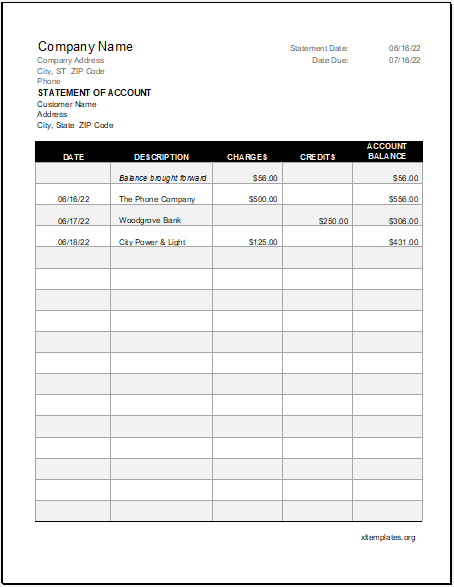 See more…
---