Before civilization, people used to live in houses made up of clay or mud. Although houses were far from one another, people knew each other and helped in a time of need. Everyone shared the same socio-economic status thus, showing off or going beyond was non-existent. With the passage of time, technology and its products changed the minds of people. They considered themselves modern and incorporated these traits into everything they touched.
Modernization drastically changed the concept of houses and living. Different ideas came into being and changed the field of construction. Many materials were discovered and tested for their ability so that they can be used in projects.
Now, houses are made up of hundreds of materials that are excavated from different areas of the world and traveled down to the desired location. In addition to construction, people have become conscious of the aesthetics of their homes. They want it to give a perfect vibe both from the outside and inside.
A House construction bill of materials is a document or a piece of paper that provides the details of materials required for construction and the amount of every material. These bills are prepared by contractors who take the charge of house construction and give the bill to the house owner for payment.
During construction, different tasks are performed that require manpower, machinery materials, and much more. All the payments of these processes are noted down for owners so that they can cross-check and pay the bill. One copy of the bill always remains with the owner as well as the contractor.
House construction bills are very important not only for contractors but also for house owners. The significance of the bill of materials can be evaluated from the following points,
It provides a clear picture to the owner of the material used and its amount.
The quantity of material mentioned on the bill can be cross-checked by the owner.
Contractors keep a record copy of every purchase for future assistance or if they want to exchange or return anything.
A review of the material's bill allows the owner to decide if they want to move forward with construction or not.
Most materials for construction are similar therefore, their bills help in ordering.
While hiring contractors for construction, many people ask them to provide an approximate bill of materials according to the workload. It helps them in making decisions either to go ahead with construction or drop the idea because it can be very costly.
Most construction bills are prepared after the work is complete. Construction bills from different contractors may vary because of their different styles of work but it generally includes similar materials. A sample of a bill of materials is given below,
Date: ……………….
Name of contractor: ………….
Name of owner: ……………….
Address: …………….
| | | |
| --- | --- | --- |
| Material | Quantity | Amount |
| Concrete | 5 packets | $450 |
| Glass | 10 slabs | $700 |
| Galvanised sheet | 5 | $50 |
| Nails | 45 | $300 |
| Wood planks | 20 | $500 |
| Aluminum rods | 40 | $600 |
| Bricks | 500 | $900 |
| Paints | 5 boxes | $500 |
Total cost: $4000
Payable by the due date: [DATE]
___________________
Signature of Contractor
____________________
  Signature of owner
Template for Excel (.xls)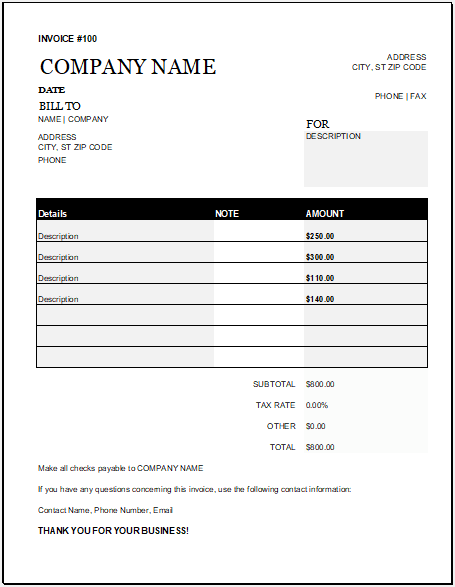 See more…
---