Time management is the key to success for both the employees and the employers as well. Just having the right qualification is not enough for having a successful job. The employers have become smart these days. They have moved their focus from only bookish knowledge and experience to other factors. Employers want their resources to have a good mix of hard and soft skills.
Employees having soft skills are preferred as they have personal attributes that make it easy for them to work in a team. With all the skill sets having different values, time management is one of the most admired skills an employee should have. Decision making is a skill which not only helps us in our personal life but also adds value to our work life. Employers like people who can take decisions on their own. But taking a decision at the right time is very important. So, time management must be a key factor when making decisions.
In our daily work routine, we perform tasks that we do every day but sometimes, we do have work that is other than our routine. Being prepared for ad hoc tasks and managing time for them is very important. Whatever services or products a company is offering, it is very important to measure employee performance or productivity. Every company focuses on measuring the productivity of its employees. And for that different parameters are put into place.
---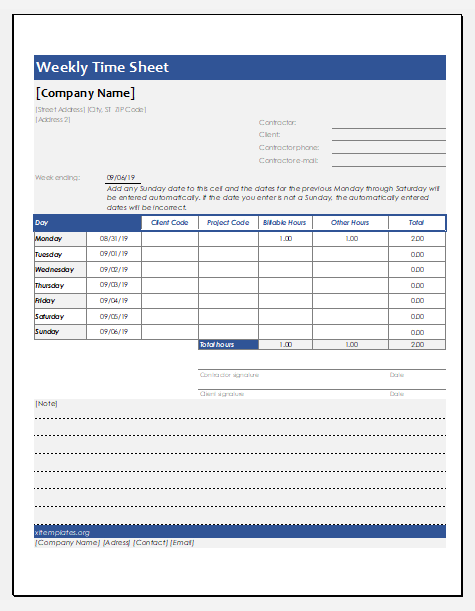 File: Excel (.xlsx) 2007/10
Size 19 Kb | Download

---
Most of the employees are given goals which they need to achieve. This achievement is very important and is a good mark to judge the performance of the employees. A very famous method to analyze the productivity of employees is to measure their time management skills. This method determines the way an employee uses his time at work.
Weekly timesheet can be prepared by the employers to see how well and how much time an employee is spending. A weekly timesheet will note the time the employee clocks in and clocks out. The timesheet will have the names of the employees and the manager they work under. This timesheet will also mention the time they take a break and the duration of the break. Timesheets can be a good way to see the time an employee spends in the office and it can be used in various analyses.
---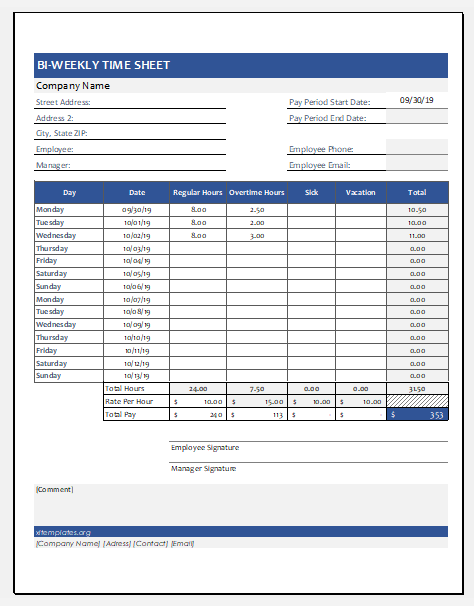 File: Excel (.xlsx) 2007/10
Size 17 Kb | Download

---
Employee Weekly Time Sheets with and without Break
If you are running your business and found no time to manage the long process of pay role handling then you should not worry as free online templates and weekly calculators are easily available to ease your precarious job. With fully customizable options and the facility of easy downloads made these templates user-friendly and globally adopted. So, next time you want to calculate weekly timings with or without any break you just click on the required template visiting this website to get your choice of template downloaded.
This timesheet calculates the number of hours spent in working with times in and times out entries, it depends on you to add the lunch break or not. It is very beneficial as it also adds the system of calculating overtime on a weekly schedule. It can also be utilized with shifts or night workers. The difference in the In and Out time before a break is automatically calculated and in the same manner, the time after the break is enumerated.
---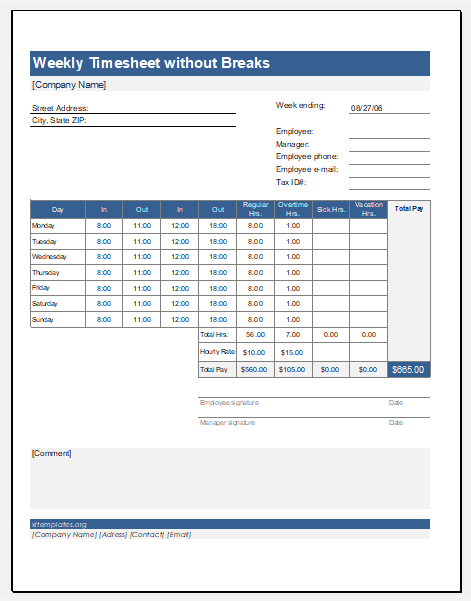 File: Excel (.xlsx) 2007/10
Size 11 Kb | Download

---
The total hours of working before or after a break will give networking hours. If the working hours are greater than the basic set standards hour then both readings are subtracted and the result is counted as overtime. Likewise, if the working hours are continuous without any break then these timings are calculated accordingly. The hours spent for the entire week under each category for holidays and sick leaves are written separately. The hourly rates should be written under each segment. The net total, gross total and hence every calculation is done very accurately via these calculators.
---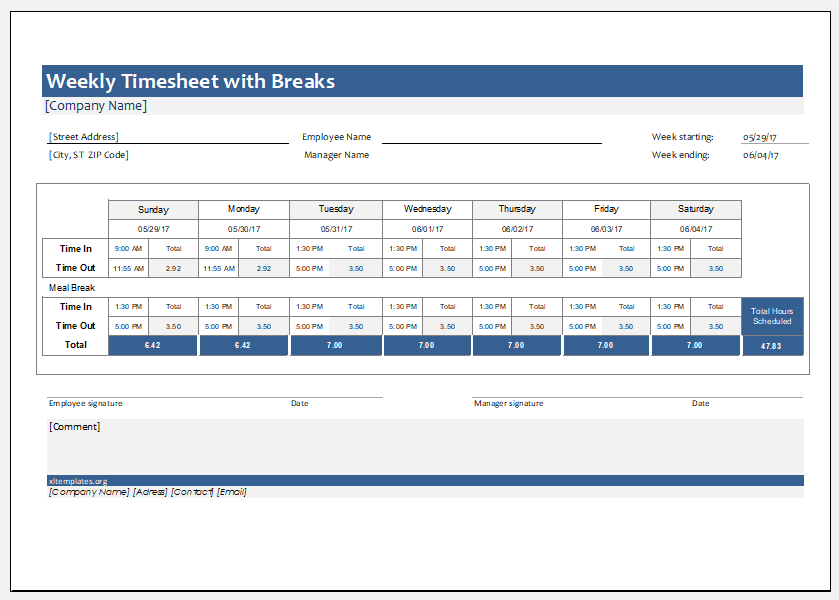 File: Excel (.xlsx) 2007/10
Size 13 Kb | Download

---
---