Project Budgets
In order to speed up the work in any organization, the project budget template is used. If you make any sheet by yourself there is a possibility that you may forget to add some very important items in it and when you will have to add them later, it would be very time-consuming. Using the readymade project budget template can help you. You can download this template from the internet and can use it easily. All formulas are ready in this sheet, you are just required to give the desired input to it, it will calculate everything itself.
It has three main types of pages which are
Overall project budget page
You can also add any additional line in the sheet. Income and expenses are categorized into the overall budget page. It is good to create when you have created a project budget to consider all the sources of funds. You will find different categories for expenses. Also, add potential expense in the page.
A monthly project budget page
The detailed look of the project budget is project budget page. Each category is divided into sub-categories in order to give more detailed information. You can easily insert a line in this page as well. You can also add the percentage.
A task project budget page
Work breakdown structure is based on the project budget by task page. You can add the information to it. In order to use this template, you should be able to know the actual picture of your expenses.
Preview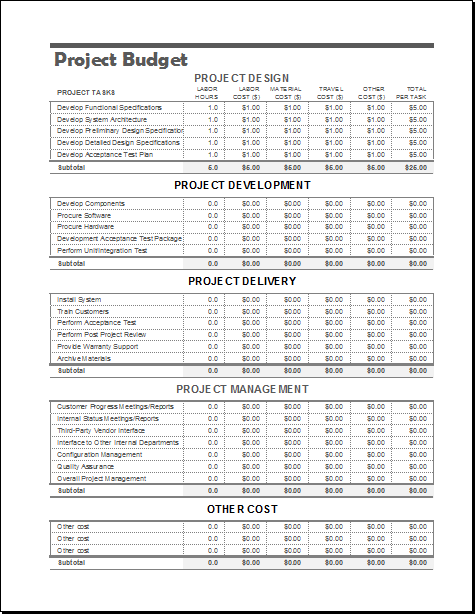 Project Budget Template
Download your file below.
File Size: 84 KB
Download
---