Restaurant inventory gives a better picture of the raw materials used to prepare dishes on the menu card. Inventory is the backbone of any restaurant as it represents a full third of the budget.
Restaurant inventory is not a common practice among small level restaurants, however large and famous restaurants keep a track of all its inventories (raw materials) used in dishes. It means:
What supplies come into the kitchen.
What supplies go out of the kitchen.
What is leftover at the end of the kitchen?
Uses of Restaurant Inventory
In today's competitive world, where there are so many food courts and beautiful restaurants, for taking a competitive edge, restaurants shall maintain their inventory system. The uses of a restaurant inventory are as follows:
It tracks the number of raw materials used in various dishes at a restaurant if offering to people.
Restaurant inventory calculates the cost of raw materials used for dishes.
It gives a brief description of the menu and items availability.
In restaurants, the raw materials used are mostly fresh like vegetables and fruits, so restaurant inventory tells the exact quantity to be used in items and hence reduces waste. If wastes and leftovers are not calculated, it means the management does not know how much of the inventory has been used by the staff.
How to manage restaurant food inventory?
A restaurant inventory can be managed by:
1: Track your raw materials on a daily basis:
Get fresh materials for your restaurant for good food quality. Get items on a daily basis on-demand, so less is wasted.
2: Train your staff on how to do the inventory:
Training your staff is very important. Only one person cannot take care of inventory management, every individual staff shall keep a track. Shift managers should be aware of and should communicate about the demands plus also inform about any spillage, wastes or rotten food.
3: Just in case (advance) inventory:
A restaurant shall have raw materials in some limited quantity in advance so that in event of any kind of shortage or emergency the restaurant can provide and satisfy its customers. But this has to be noticed that it's on time usage is important before it gets rotten.
The process minimizes food waste and reduces operational costs, hence maximizing the profits for the business and makes survival easy in the market.
Restaurant inventory template
If you want to keep a track of your stock or restaurant inventory the restaurant inventory template can act as a powerful tool at your disposal. They are flexible, capacious templates that can accommodate all of your mathematical applications.
To run a restaurant is really a difficult task and to keep the proper record of your inventory is no doubt something really complicated. To manage an inventory list, you can hire some experienced employee or if you want to save any extra penny, then you can do your inventory yourself by taking guidance from online tutorials and templates.
This has many benefits you can cut down the cost of hiring inventory managers and restaurant owners will also be able to keep a strict self-check on their functioning. They can concentrate on what foodstuff should be ordered more and what gets wasted. This organization will help to make meaty profits.
To make a comprehensive inventory, you have to check the usage and screen the probable variances. This business demands the exact knowledge of the sale of every food item per day.
The inventory screening involves the demand for ingredients, how much each ingredient is purchased and which ingredient is in great demand. Wastage or spoilage occurs due to some unavoidable circumstances.
A reservation is canceled or simply theft could be done in a restaurant. All these situations demand strict inventory control to keep costs and sales in proper balance.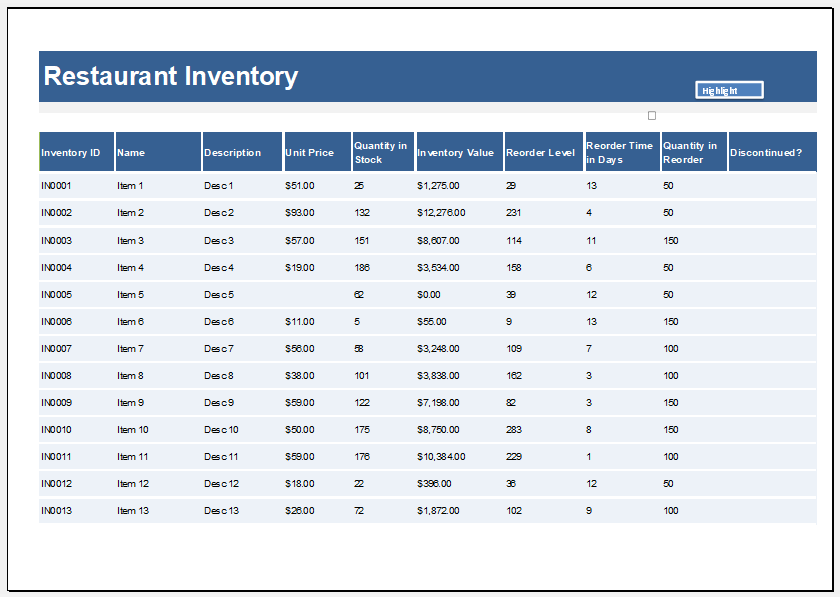 File: Excel (.xlsx) 2007/10
Size 15 Kb | Download

---