Accurate budgeting is a financial tool that is the key to a company's success. Every company wants to make a good flow of money and earn profit but only some of them have the idea about how to do that. To make sure that your company earns well and your employees remain motivated and passionate, you have to make a budget plan that analyses your expense and profits more accurately. Employees can become a part of the company's policy making process and give their suggestions to make the policy and the budget better. The payments on such cases are done four times a year and the cash flow is made better for the success of the company. A quarterly budget analysis sheet is used to analyze your assets, income, and expenses four times a year allowing you full control over your company's investments and sales.
What is a Quarterly budget analysis template?
A Quarterly budget analysis template is designed to analyze the expenses and budget of a company over a period of three months. The company's executives understand the pain of having financial troubles so they plan ahead and make a spreadsheet that allows calculating the expenses for 3 months which is a quarter of a year.
Guidelines of a Quarterly budget analysis template:
The template can be used to cover the expenses of 3 months.
The pie charts and graphs allow easy access to the trends of the expenses and the profits.
You can use it to make an annual financial statement as well, which will be well balanced and accurate due to the four quarterly analysis templates that are incorporated while making it.
Features of a Quarterly budget analysis template:
The template contains all the incomes and expenditures in a categorized form.
You can pick out the flaws in your budget sheet easily using this template.
The budget forms, revenue, gross profits, and sales are in one category.
The expenses are in one category.
The incomes and taxes are in one category.
The last category contains the loans and withdrawals that are done during this period.
Use the template that is made by our team of professionals.
Preview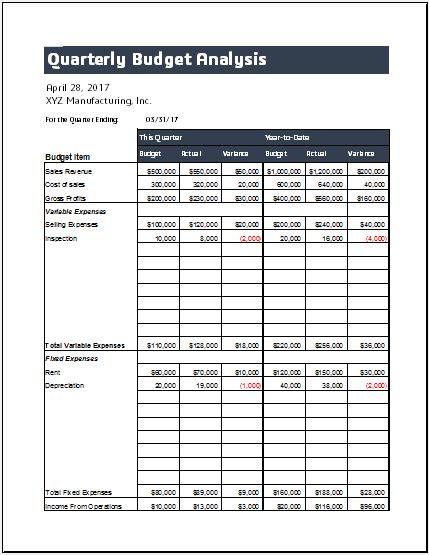 Quarterly Budget Analysis Sheet Template
File Format: MS Excel 2003 & Later
File Size: 68 KB | Download
---
---