Photography has become one of the most important components of any event. No matter it is a wedding event or you are to organize an event for any commercial purpose, photography is the crucial part of every event.
If you are a photographer and you want to get hired, it is important for you to price your services sensibly. The customers are more likely to be attracted towards the photographers who don't charge extra and are able to provide the details of the cost that makes sense
What is photography estimate document?
A photography estimate document is generally prepared by photographers. In this document, the photographer is required to write an estimate of all the costs related to photography.
How to write the photographer estimate document?
Collect details about the photography project:
The photographer should know about several details before providing the estimate to the client. For his purpose, he can consult the client to know about several factors such as the total budget of the client, number of photographers needed by the client, location of the photography, duration of the event, number of guests required to be photographed and many other details. Acquiring all these details help the photographer know about the total cost the client is likely to incur. In this way, providing him with the estimate becomes easier.
Check the pricing of your competitors:
It is important for you to know how much competitors are charging for the same job since the inclination of the client will be definitely towards the photographer with a low estimate. There are different types of photography. Whether you have chosen the portrait photography or the event photography, always consider the price charged by other photographers in the same domain
Determine the cost of the tools:
The cost of all the tools and accessories that you will be using to complete the job of photography should be known so that you don't end up paying out of pocket. The client should also be informed about this cost. It is better to break down the total cost into these small costs and then make different sections in the estimate document.
Calculate the labor cost:
As a matter of fact, every estimate also includes the service charges of the service provider. A service provider cannot ignore himself since he invests his time and energies into the job of photography. In order to make the client realize that paying for the services is also necessary, you can list all of your services in the estimate document along with the cost of each service.
Focus on the benefits the client will avail:
The client takes interest in the estimate which goes in his favor. Therefore, the main focus of the photographer should also be on the benefits of the client. Many times, the client takes an interest in the finished product and its results only. You can also focus on.
Preview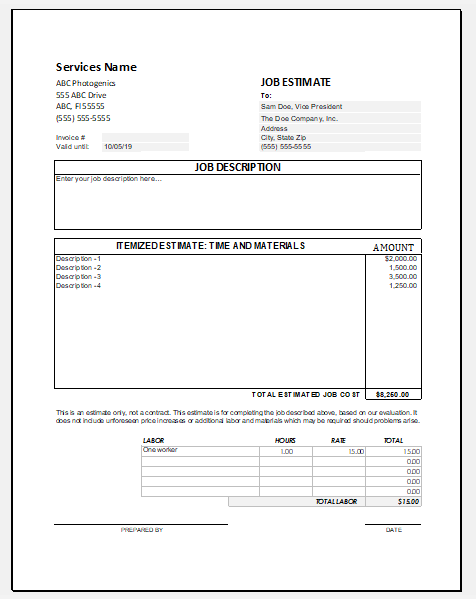 The Template
File Format: Excel (.xlsx) | File Size: 89 KB
---