A pantry is a specified place or closet where supplies and rations are stored until they are needed. A pantry can range from a normal household one to an extensive one that is used in restaurants. Regardless of their size, keeping a record of what a pantry holds and what is required for the future is a task that needs to be well organized. An unorganized pantry often leads to getting some products more than some products, not meeting the demand with supply and spending more than the budget.
For a normal household, a pantry is a place or cupboard in the kitchen or any other area of the house where groceries or food items are kept. From this place, the food is brought to the table. Pantry includes rice, pulses, canned foods, snacks, and cooking oil, Tea or coffee and many more. Spices and refrigerator foods are also included in this list.
In order to achieve a well-organized pantry, one needs to have a pantry inventory list that has every product and product listed in order. To make a list one needs to first divide the list into groups. These groups could be like Sauces, Pasta, Bread, Flour, Tins, Powders and etc. and then among these groups, you may list down the products along with the quantity.
Listing down the quantity gives an idea as to when more goods are to be bought and needed. If one feels like putting down even more detail, listing the date of the product bought can be done. It is necessary that an inventory list is maintained on a weekly basis since we are dealing with items that are perishable and are needed on an everyday basis. A column to ensure that the pantry list has been inspected can also be added.
About template
Pantry inventory template is an online and downloadable tool that helps an individual to keep a track of all the food items still available and the items that need to be brought for future cooking.
The template deals with the following supplies sections:
Baking supplies.
Herbs and spice supplies.
Canned goods supplies.
Dried good supplies.
Pantry inventory template highlights:
This list includes:
Items you already have in your kitchen for making meals.
Items you need to buy for running your kitchen.
Item in stock that needs to be cooked or finished before expiry.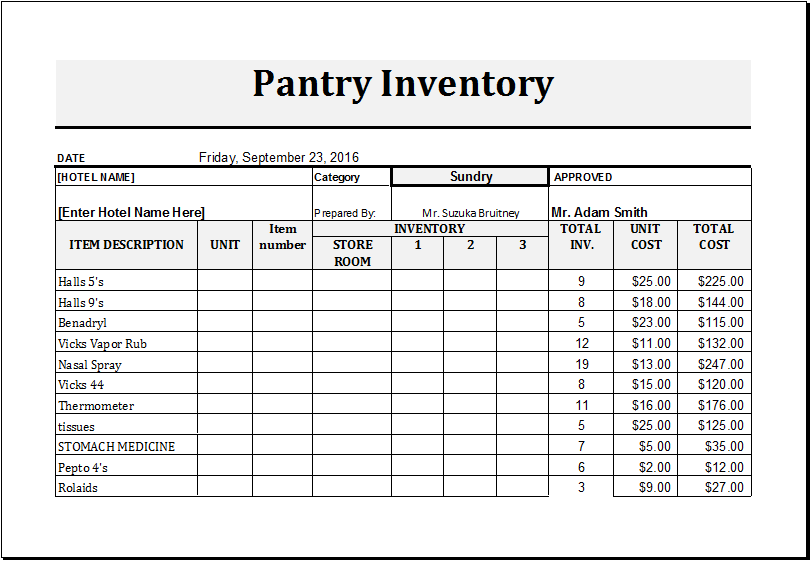 Download your file below.
Pantry Inventory List Template
File Size: 46 KB
Download
Structure of a pantry inventory list:
The structure includes:
The number of items.
Location of items.
Cost of each item and total costs at the end.
Uses of having a pantry inventory list:
A pantry inventory template is a powerful tool used in households and businesses. This pantry inventory template includes points that need to be considered while running a kitchen and make your pantry all complete for use. Some of the points are mentioned:
It helps in making a menu of dishes to be cooked and makes cooking easy.
It helps in reminding you to finish the food you have already got in the kitchen before it gets expired or rotten.
Pantry inventory template makes sure that your kitchen does not run short of items need for cooking or for any unannounced dinners or parties.
The template saves your money and does not let you spend extra money on an item you do not need.
It saves your time and frequent visits to the grocery store again and again.
It helps you to organize family meet up parties or any other occasion.
The maintainer of a pantry inventory template can update this list every day or after one week, depending on the usage. All family members shall sit down and decide what needs to be included and bought from the market. In-hand items can greatly improve cooking options and increase creativity.
---