Inventory is an accounting term used for stock or merchandise in hand. It can be defined as the goods or stock that a company holds for resale or repair.
Inventory can be varied from business to business. Some businesses hold ready-to-sell inventory while others hold the raw materials used to produce a final (furnished) product through the production process.
A business may have inventory on its premises or on consignment.
Inventory can be the cost of a service for which revenue has not been recognized. Inventory is categorized as a short-term asset of a business.
Categories of Inventory:
In accounting, inventory is divided into three main categories:
Raw materials:

Materials used for making a final product.
Work-in-process

It includes items that are in the middle of the production process and cannot be sold out to the customers/consumers.
Finished Goods:

These inventory products are ready for sale to the customers/consumers.
Office Supply Inventory:
Office supply inventory is a tool used in offices by a business or an organization in form of written material, record keeping or bookkeeping, janitorial and cleaning, and for the storage of supplies or data. Human resource and the administrative department uses this tool for tracking of supplies.
The range of office supplies varies from one company to another depending on the basic functions. This may include:
Consumable products
Office tools
Office furniture
Daily use items
Computers
Software for work
Steps to Make an Office Supply Inventory:
Following is discussed how to prepare an office supply inventory system:
1: Prepare Inventory Log:
Mention the company's current supplies already available for use by the staff.
2: Classification of Supplies:
Classify all the supplies into groups. Division can also be done on the basis of the product numbers or UPC codes. Businesses that use supplies across multiple departments may use a more detailed approach to supply management.
3: Do a Count:
Enter the class of the item or item number in the inventory Log. Record the number of currently available items in an adjacent column.
4: Check When to Reorder:
Determine when and how to reorder supplies for the company. Check how quickly the company consumes a product and how quickly it can be replaced. Reordering items on time and before the inventory drops drown to the lowest level provides a time cushion and work efficiency.
5: Record Purchases:
Record new office supplies purchases as quickly as possible.
How to Make Inventory Template in MS Excel:
In order to keep and manage inventory properly, a business needs to use an office supply inventory template made in Excel. In today's technological era MS Excel is widely used by companies to work efficiently and effectively on time. Below are the steps mentioned to make an office supply template in excel:
Open the Excel sheet and click on the search bar at the top of the Excel window.
Click File in the upper-left corner and then click new form Template in the drop-down menu.
Search for inventory list templates. This will show a list of templates for inventory management. Select one which best suits your business. Each inventory list template offers various features. Choose wisely!
Click create on the right of the preview window and wait till it loads.
Enter your inventory information. It shall include the following details:
Item number
Item name
Item number
Item cost
Number in stock
Net value
Save this sheet for quick assessment and overview of the supplies
Benefits of Office Supply Inventory:
A business needs to maintain its office supply inventory very efficiently. This act is important and beneficial in mentioned ways
It ensures that a company does not run out of office supplies.
It allows for proper office supply purchases.
Office supplies cost money to a business and spending too much on it can be a waste that can be spent on investing in the company's growth.
Sample Template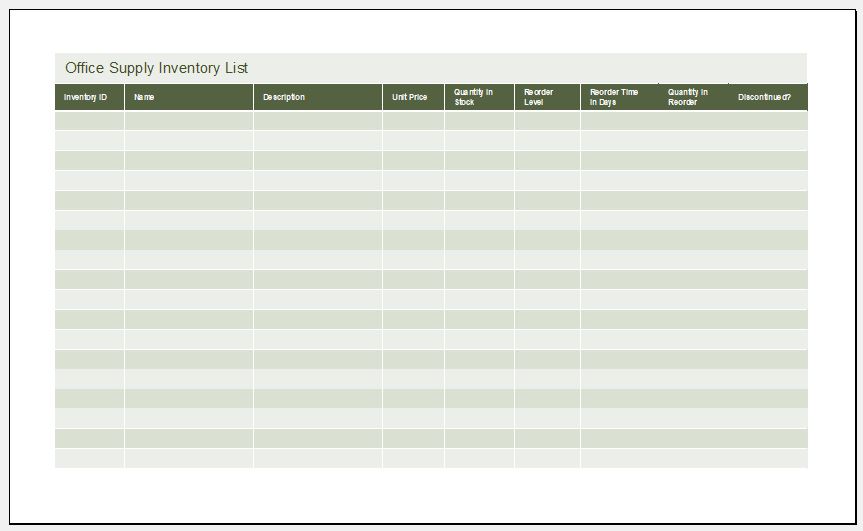 Excel Worksheet File Size: 85 KB
More Excel templates…
---