Have you got a sudden need to make a home inventory spreadsheet? A home contents inventory spreadsheet is one of the most important organization tools for your home. This is true especially if you live in a big house with a big family.
If you happen to have lots of things to tend to because you happen to be the prime organizer of the house and you simply cannot seem to get things in order or are getting tired of grocery shopping because one item or the other always falls short. You will find that keeping a home contents inventory spreadsheet will remove all those extra trips to the grocery store.
Wise people always try to keep the record of everything they own no matter it is a property or inventory. Keeping track of everything you own is also important especially when it comes to fulfilling the insurance purpose. If you want to claim for money, you will be required to submit a list of all the belongings of yours that got damaged.
The insurance company will need that list before it makes you the payment. The list of the inventory you own should also include the date on which you purchased model name of each inventory item, brand name, receipts of buying and a lot more.
Make sure that you provide all the necessary details so that the insurance company cannot deny paying you the premium. Moreover, the home content inventory list is also used when you are going to rent out the house and want to detail all the contents before it.
A home inventory spreadsheet will cover all the areas of your home such as items you need and stock up for the kitchen, or day to day items and other items such as stationery for your children and much more similar things. With a home inventory list, you will see that you can easily stock up on items and then add that to the spreadsheet so that if you ever need to check if you have some item at home you will only need to glance at the spreadsheet. This way, if you have the item at home stocked up in a storeroom, you will not need to run to some shop to get it.
A home items inventory sheet will most probably be available in Microsoft Excel because of Microsoft Excel, is a program which specializes in spreadsheets. And since it can be saved on your computer or laptop, you can easily make changes as and when you wish.
Preview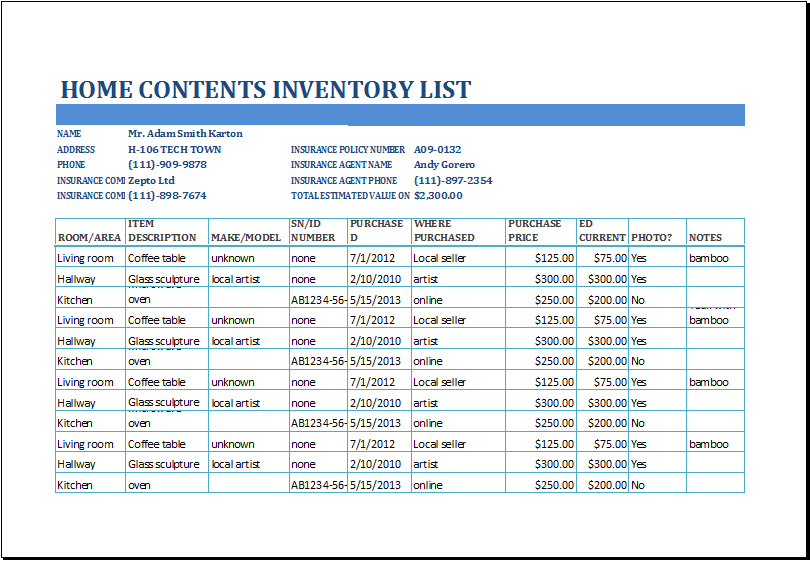 Download your file below.
Home Contents Inventory List Template
File Size: 35 KB
Download
Template:
Home content inventory list template is a printable and easy to use spreadsheet document that helps the user get the job done easily. The inventory list enables the user to list down all the items available in the inventory without having to worry about the format and structure of the list.
However, if he finds the format not to be appropriate, he can personalize it according to his needs. The template also allows the user to add the photograph of each inventory item in it. Adding a photograph of each item in the inventory makes the record of inventory stronger and more useful.
Using photographs is also useful when your home contents are stolen, and you want the police to see them for clear and quick identification
While listing down the inventory items, locate the receipt that you received at the time of purchase. Keep all the receipts with you. You may have to show those receipts to the insurance agent to prove that those inventory items belong to you.
The receipt of every item is not required but make sure that you have a receipt of heavy and expensive home contents with you such as electronic items etc.
---