If you run a bookshop either small or big or run a cafe with books or even a library or any other form of the book collection, you might notice that you require an inventory sheet to manage all the countless books. Without a book inventory, you will surely be lost. Imagine a customer who comes to you and asks if you have a specific book at hand. Now instead of going through all the books you have, if you have a book inventory sheet, all you will need to do is go through that sheet and find out if you have that particular book or not.
If we talk of book inventory, we mean books only. In book inventory, an individual keeps a track of all the books he has in his collection or the books that he needs to buy in the future. Book inventory includes all kinds of books, which include textbooks, magazines, journals, storybooks, and many others.
A book inventory template is used when one wants to efficiently manage his books online. The software automatically tells about the books that need to be bought. If we talk of a bookstore, it tells the shopkeeper about which books are sold and which books are still in stock.
Most book inventories let you list down the name of your books either in alphabetical order or by the author's name so that you can know all the books you have by that one author. An inventory sheet usually consists of two or three columns. The first will have the book's name and the next will have the author's name. There may be additional columns stating the serial number of the books or even the price if you sell your books.
This depends on which template you choose to suit your particular needs for your specific business. For example, if you run a library where people are only allowed to borrow books, you might not need the price column in your inventory sheet. Therefore, you can opt for a book inventory that omits the price column.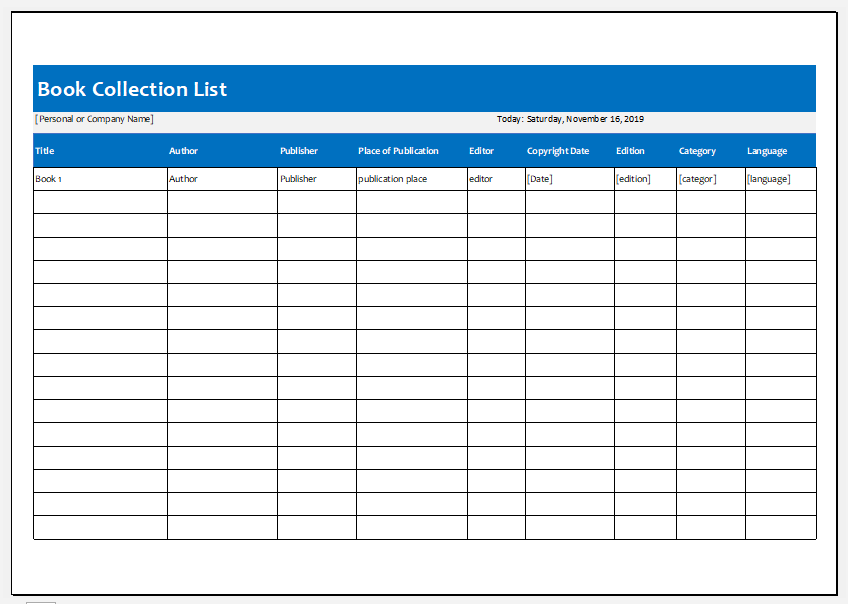 File: Excel (.xlsx) 2007/10
Size 22 Kb
---
General Structure of a book inventory template:
The book inventory template is almost the same all over the internet provided by different software companies. The typical structure consists of:
Name of books.
Availability of a book.
The expected arrival time of the book is not available in stock.
The template comes with different sections, columns, and headers that help the user to keep a track of all the books in or out of stock.
The Template
A book inventory template is a useful tool and its uses cannot be neglected. Keeping a well-maintained inventory helps the owner in the following ways:
It shows the number of copies of a specific book in stock.
The tool tells the owner about the availability of the book. If a customer comes up with a demand for a book, rather than wasting time checking all the book titles, an individual can simply use this inventory tool for a faster response.
It gives the names of all the books along with authors, publishers, date of publication, copyright status and other important information that might be needed.
The template is of great help in organizing, managing, and presenting books to students or clients.
The inventory template is of great help in managing the stock of books in a large number and where there is a demand for books on a regular basis. The tool is used in bookshops, public or an educational institute library and a book cafe. Running a books store or managing an in-house library is not an easy job and requires much attention and time, but this tool has made this job easy.
---