Watching films is easy rather interesting but making films is not. Film-making demands extraordinary skills, stamina and a most importantly a well-planned film budget. We often hear about films that were in making but got stopped in the middle. In many cases, the reason behind is that the filmmaker runs out of budget so he could not afford to continue shooting any further. While we see what comes on the screen, there are many things that take place off the screen. Off-screen people are as important as the main characters of a film since they are responsible for bringing the film to the screen. All these people, instruments, locations etc. count in film-making as well as in its budget. It is, therefore, important that before a filmmaker starts making a film, he makes a film budget.
A film budget records all the cost that will be spent when making the film. It begins with the story. A filmmaker is only sometimes the writer of his own movie but mostly, the story is bought. The story is the first thing that is marked on a film budget record. It is then followed by producers and directors dues, a budget that is fixed for the cast of the film, for the travel and hotel dues etc. Other important things on which money is spent while film-making are here under;
Set construction and operating staff
Camera and lighting
Makeup and hairdressing
Location
Transportation etc.
In order to make a proper film budget, none of the important recordings should be skipped on which cost will apply. In the case they are skipped, you know what happens. Yes… we hear that the film's shooting has stopped.
We encourage you to make use of these film budget templates to clearly record your budget details because we're desperately hoping to watch your movie next summer!
Download your file below.
Film Budget Worksheet Template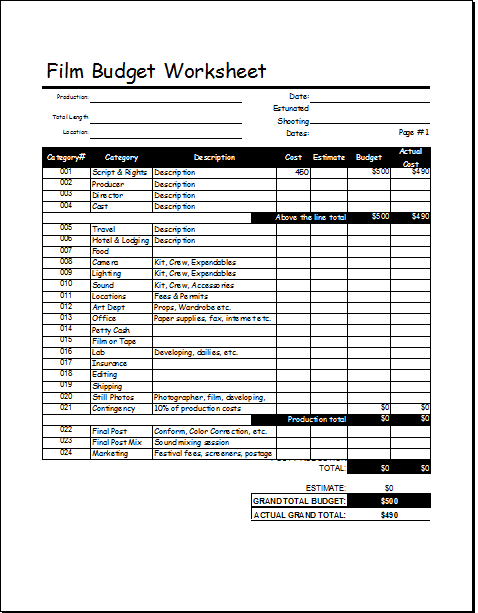 Download  File Size: 40 KB
---