You want to make money and this is the reason you have decided to start a new business right? It sounds so simple to people who have sufficient resources and money to start a new business. However, if you have limited experience and knowledge, you will need the help of a professional like a consultant to estimate the total cost you will have to bear as you start a new company. If you don't trust consultants and you want to do things on your own, you should rely on some tools that are available online.
What is a new business start-up cost estimator?
If you are unsure about the expenses of starting a new business and also about the amount of money you have, you can consider using a start-up cost estimator. This tool will help you to get a rough or accurate estimate depending on how well you provide the data to it.
What information does the new business start-up cost estimator collect?
The estimator will collect information from you to let you know how much money you have to spend roughly to establish a new company. Here are a few details that you will have to provide for this tool:
Cost to incur before starting a business:
When you are just trying to register your company in the market, you will need to get a license from the relevant authority, get certificates from the government and perform lots of other pre-trading tasks. All these tasks are also completed when you pay a specific amount. You will be needed to provide these details for an accurate estimate.
Setup cost:
The most important factor to be taken into consideration is the cost you will incur when you set up your company. This totally depends on how you do it and in which market you are trying to establish a new company. Expenses such as renting a building are included in the setup cost.
Cost of marketing:
You can't run a business successfully unless you spend money on marketing. The total cost of marketing depends on which marketing strategy you use for promotion. If you want to get away with these costs, you can simply do the marketing on your own.
Operations:
Depending on the enterprise, you will have to perform a series of operations. The cost of each operation varies for every business. You need to look into how much money you will need to spend and input the information into this estimator. For carrying out various operations, you will also need to hire a workforce. Add the salaries of hired people to operation costs for getting a precise guess.
Template:
The startup cost estimator template is the best way to do the estimate without wasting your time. This tool is extremely useful and easy to use as it does not require the user to put effort into estimating things manually. Use this estimator carefully to get good results.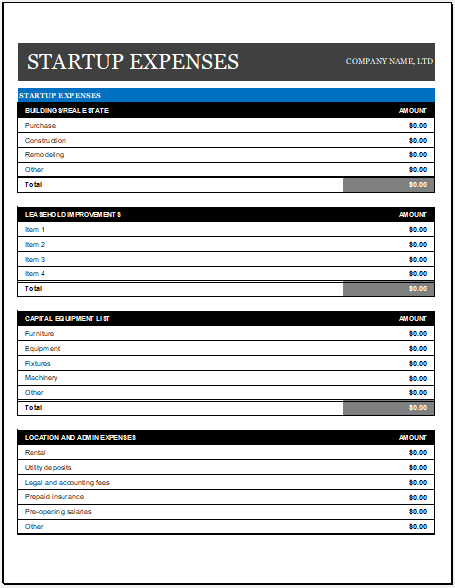 Excel Worksheet (.xlsx) Format
Excel Templates
---