Not having a detailed college budget planning setup can easily make you deprived of all the money by the middle of the month. Budgeting is one of the essential parts of everyone's life. The financial health of a student can be improved if he has a perfect and appropriate tool to keep track of what he is spending.
The college life for every student is the best time to learn about planning budget and cutting down the expenses. After learning these two things, a student can easily stay within his budget constraints when he gets in a more practical life.
Key elements of month college expense:
The college expense calculator includes:
The list of total resources that a student has in his possession
The list of personal expenses
Information about a scholarship or any other financial aid granted to the student.
The other section of the expense calculator is based on the expenses of a student in a month. This section includes:
Total school expenditures
Expenditures related to lodging and utilities
Debt details
Charity details were given by student
Expenses on transportation
Expenses on communication
Expenses on entertainment
Personal expenses details
Expenses related to savings
The third section of the expense calculator is about the savings. The savings are usually made to reach the goals. In a student life, everyone has different goals. Some of the goals are short-term while some of them are long term. Each goal required a student to have money in his account as a saving. Total money saved by the student each month is also calculated by this calculator worksheet.
Benefits of monthly college expense calculator:
The key benefits of this worksheet are:
This worksheet enables the student to keep track of all the expenses he has made each month
It also makes it easier for the student to track all the unnecessary expenses that can be cut down to save money
The student can tally his own expenses list with the list of expenses given in the worksheet.
Preview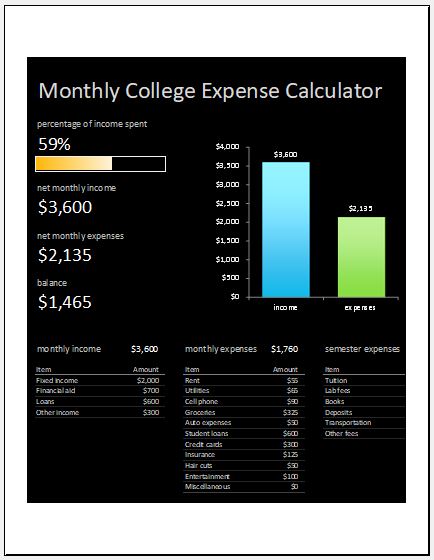 Monthly College Expense Calculator Template
Format: Microsoft Excel 2007-2013
File Size: 31 KB
---