The care provided to a baby in the environment of the home is known as home nursing. Home nursing is easy and difficult at the same time. If you have decided to take care of your child at home, you are depending on yourself.
This can lead to some problems also because sometimes, you don't know what you need to do to take the best care of your baby. Even if you have hired a nurse, she will have to work without any guidance. So, you cannot be sure if your baby is being nurtured and protected.
It is a pre-designed checklist that covers a list of activities to be performed by the home nurse for better care of the baby. This tool is best for those who have no experience in taking care of their baby or cannot get guidance from anyone regarding the baby's care. Those who use the checklist never forget to do anything that has been mentioned in the list. Therefore, they always give the best care to the baby.
This tool enables mothers to be sure of the fact that the care they are giving to their newborn is on point and they deserve to be appreciated for it.
Why is it important to use the checklist for home nursing?
Mothers or nurses who are overprotective about their babies are often dubious as to whether they are giving proper care to their babies or not. The checklist makes them perform all the things regarding nursing that their baby needs. So, if there is any problem such as a rash on the baby's skin, they come to know about it immediately and do whatever they are supposed to do.
Your baby stays healthy and grows exponentially when he is given proper food, care, and environment to grow in. mothers who understand this fact know that they don't have to depend on professional nurses for their baby's well-being and they try to give all the care at home.
Benefits of using the checklist for newborn nursing
It is best for new mothers:
If it is their first baby, they might feel more overwhelmed about their well-being and health. They don't want to cause any harm to him just because so naive in terms of giving proper nursing care. The checklist is for all the new moms who have no prior experience and are doing all this for the first time.
It helps them know their baby's needs:
It is not easy to understand the needs of an infant especially when it is your first time. When you follow all the steps mentioned in the checklist, you gradually start understanding the needs of your infant. This way, you become a pro at giving nursing care. If you are a professional nurse, you will get more experience in understanding the needs of the baby.
It lets you know the nursing accessories:
Many women don't know what they need to bring home when their baby is on its way. The checklist has a long list of accessories a mother will need while feeding, wrapping the baby, during bath time, at bedtime, etc. When you use the checklist, you never miss out on anything important.
Get the checklist template:
A checklist template provides a readily available checklist. People who don't want to waste their time always find templates to be the best solution for their busy routines. It is not possible to remember everything you do for nursing care. Using the template will help you do everything that you want to do in order to ensure better care.
If you download the template and keep it on your device, it is always accessible to you. The tools that are easily accessible are generally used with more frequency. You can print multiple copies of the checklist to record your daily baby care routine.
You can also show this checklist to your baby's medical advisor to let him know how you are nurturing your baby. After seeing your routine, he can suggest some more things that you can do for improving your nursing care.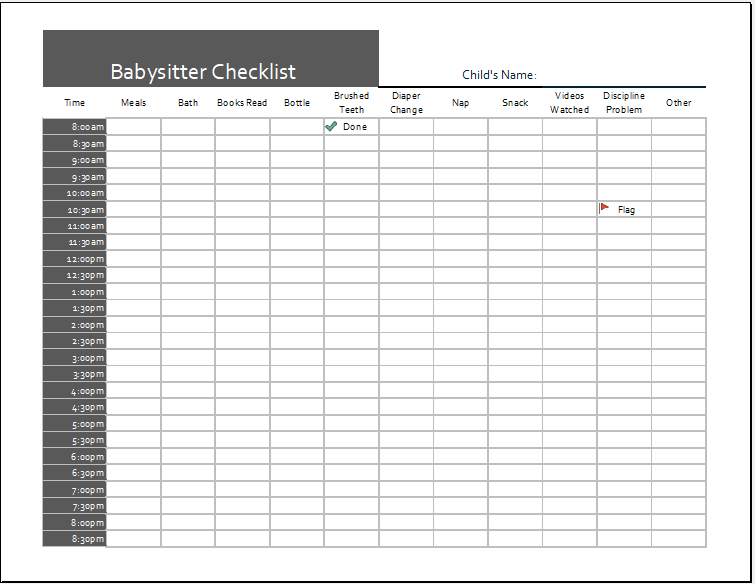 ---