When you are running a business, you should prepare yourself for managing plenty of things at the same time. Managing things often become complex and hard especially when you are using a systematic and organized approach for this purpose. So, whenever you need to manage anything, you will use a register for your business.
What is a business tool register?
To perform day-to-day operations and activities, a business uses plenty of tools that are generally operated by skilled and knowledgeable individuals. These tools are enormous especially when a business grows in size. In this situation, there arises a need to manage these tools. For this purpose, a tool register is used. 
Some registers are used for managing several things. For instance, a staff register is used to manage the salaries and attendance of the staff. Similarly, a tool register for a company is used to manage the tools that a business uses.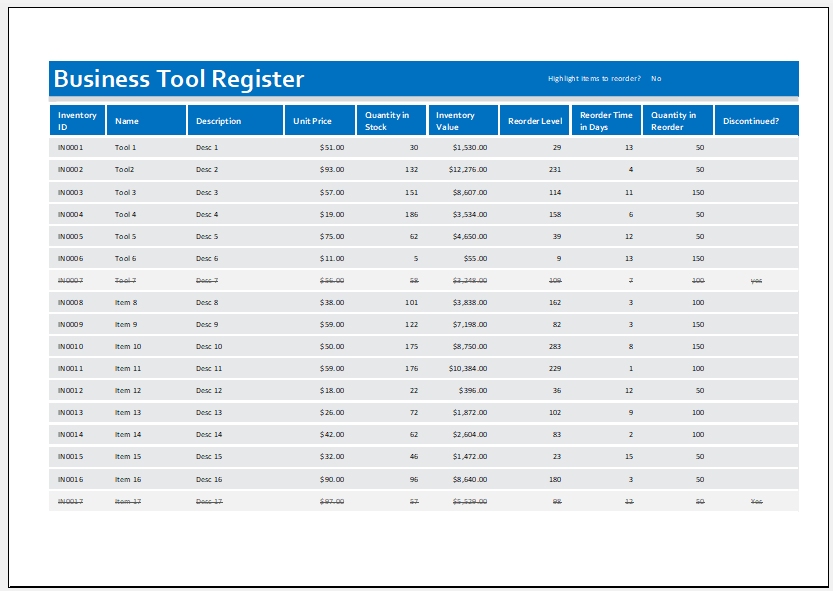 Benefits associated with the use of the worksheet
Every register used by a company has some utility associated with it. People who don't make effective use of these registers are generally those who don't understand their worth. For this purpose, a few benefits are listed below so that you can understand the usefulness of a tool register:
It ensures seamless tool management:
Management of tools is an important aspect of using them and then keeping them in a safe place where they can easily recover from as and when they are required. Business tools include all small and large machines that help a company and the people working in it to speed up their work and do it effectively.
Some tools are very expensive and some of them are not easily available. Therefore, losing them can make everyone suffer a lot. When you use a tool register, you perform the task of tool management seamlessly which would not have been easier otherwise. 
It saves time:
The main objective of the tool register is to ensure that it is easily available to those who are in the need to use it. There are several pieces of equipment that we need from time to time and that are very important for us. If the company runs out of them without being noticed and people need them, there will be a delay in the work because of the sudden unavailability of the equipment. This usually happens when a register is not used regularly.
A register tells you quickly in advance when you are going to feel the lack of equipment. In this situation, you start making necessary arrangements beforehand to ensure that no one has to wait for them.
It saves the cost:
Some tools are very expensive and you cannot afford to lose them or have them stolen. But, if you don't keep track of them using a register or a worksheet, it is very easy for you to fail to manage them and then suffer a loss. Therefore, using a register is always recommended. Whether you have your tools or you have hired them, you are always at risk of losing them if you don't take care of them.
Therefore, as and when they reach you, make an entry of every tool in the register and then monitor them to ensure that they reach back to their owner. This way, you will be able to save a lot of the cost that you would have spent on buying these equipment pieces again if you had not taken care of them earlier.
Is using an equipment register template useful?
If you are someone whose job is to ensure the management of the tools, you should start using the template as it has plenty of benefits. The template provides you with a ready-to-use register that does not require you to put in the extra effort. This way, you will be able to save the life that you would have spent on making a register. Some people also buy a register but they will not have to buy it if they use the template which is free on most of the websites.
Excel Business Templates
---