Getting paid is an integral part of any job. It is necessary to have proof of payment being given to staff. The staff should also have some slip that tells of the particular payment. It is better to have this in case there are complications later on that are voiced by the staff concerning pay.
What is a Basic Weekly Payslip?
A basic weekly payslip is a payslip given to staff for work that needs to get paid on a weekly basis. It may be for some special project or activity done.
If you need to create a basic weekly payslip, you can consider the below points:
Microsoft Word or Microsoft Excel– The payslip can be made in Microsoft Word or Excel. It must be prepared in a way that looks professional.
Heading– Give the document a heading like "Weekly Payslip."
Company details– It needs to have the name of the particular company and its logo also. It should even have the company's address along with contact details like phone number, email address, etc.
Employee details– You need to include the employee's job title, status, their contact details like phone and email address. This is so that it is known who the payslip is for.
Date– It is very important to include the date clearly. You can state the week ending date.
Table– A table can then be made as this will show the details clearly. The headings will be Day, Date, Regular Hours, Overtime Hours, Sick, Vacation, and Total. In this way, all the details will be given. At the bottom will be rows that will give the Total Hours of each of the above headings, the rate per hour and total pay. It needs to have the balance details. The complete number of days that the employee worked as well as the total amount which is being paid plus any deductions. These need to be mentioned clearly in the payslip. If employees are being paid per hour, state how many hours the employee worked.
Signatures– At the bottom area of the payslip will be a slot that will have signatures. This will include those of the employer. This makes the document authentic. It will also have the signature of the employee. The date will be given, as well.
Advantages of Basic Weekly Payslips:
The advantages of a basic weekly payslip are:
It is a clear document that states how much an employee is being paid and why there may be any deductions.
This document can be used as proof by the organization and employee that they were paid for the work done.
Allows the employee to understand why they were paid a certain figure.
Basic weekly payslips are important and are professional documents. They need to be created carefully as they have details of how much a certain employee got paid on a weekly basis. The document needs to be made clearly so that it can be understood by all concerned.
Preview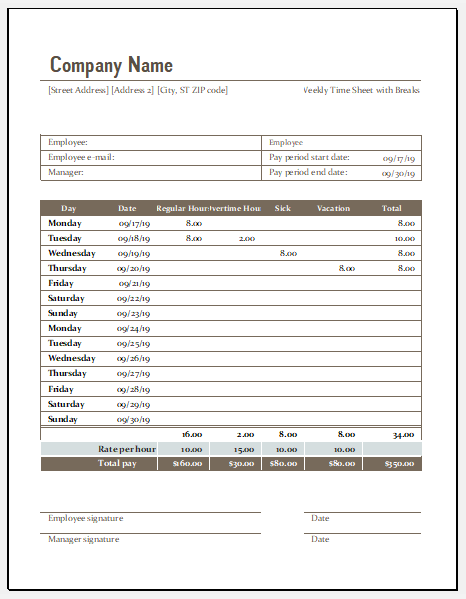 The Template
Format: Excel (.xlsx) | Size: 45 KB
---