TRADE & SHIPMENT
For any organization, the trade, and the business it does with its customers and clients is important. It is because of this business and trade does it get the revenue and makes a name for itself. In order to be a good trader and to be the best in the market, an organization needs to adhere to certain policies and to certain terms. These terms and these entities are the steps to become a better trader and to make a name for oneself in the market. One of these is a bill of lading. A bill of lading can be defined as a legal document which is regulated between the shipper (organization) of a particular good and the carrier.
BILLING STATEMENTS
In the bill of lading various details about the product and shipment are mentioned such as the type of the product or the shipment, the quantity and the destination of the good is being carried. Many times this bill of lading is also used as a receipt for various shipments and for various consignments. Because many organizations make use of this bill of lading on a daily basis, they make a bill of lading template to make things easier for them. To make a bill of lading template, one must make sure that the important entities are mentioned which are related to the product and the consignment. They are the name of the product, the quantity, the destination, who is to receive it and who is sending it. Mentioning these in clear is crucial.
BILL OF LADING TEMPLATE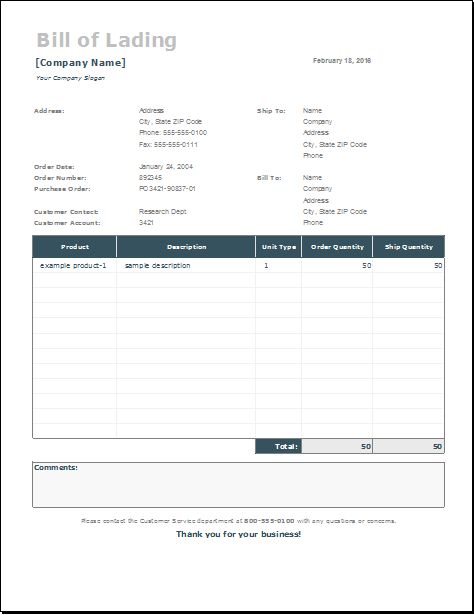 Download your file below.
File Size: 29 KB
Download
---