With the help of regional sales report, you can keep track of all the sales in your region. It is a spreadsheet document that prepares an error-free and awesome sales report for your business. With the help of the template, you can know about the sales generated in different regions and you can also analyze which region is giving the best output in terms of sales.
What is sales report?
A sales report is a document that is used by many businesses to analyze which region is doing good business. The businessman gets the clear idea about the performance of the company and he can know if the growth of the business is increasing or declining.
The sales report is generated to have a clear idea about the performance of the business. Many decisions can then be taken accordingly.
For example, if there are fewer sales in a region, several steps can be taken to boost the sales in that region. The business also considers all the problems and factors that are affecting the sales.
What should be included in the sales report?
You can easily prepare the regional sales report by adding some details in it. The main details are:
The date on which the report is being prepared
The name of the department
Details of the region
Details about the products that are being sold in that region
There can be different steps that can be taken to prepare the sales report of a region. For this, the company can conduct the meetings with the area sales manager and the customers to know how to pay attention to the business and what steps should be taken to meet the target level of sales.
The template for the regional report of sales has been designed by the team of professionals who know well about the format and the contents of the sales report.
You are not required to do anything regarding the format when you are going to use this template. All you have to do is put your information in it and it is ready to print.
Preview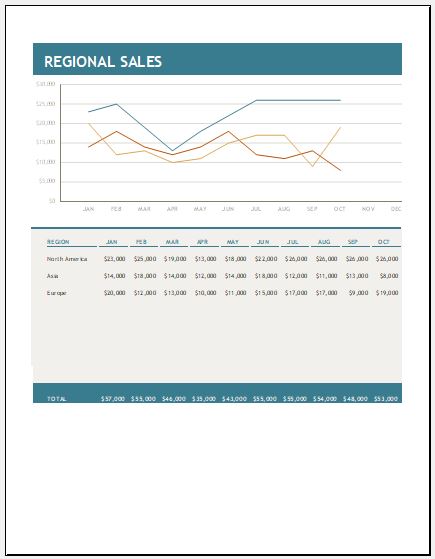 Regional Sales Report Template
File Size: 24 KB | Format: MS Excel
---