What is payslip?
Payslip is an essential element which is used in almost every organization. It is a formal document which is presented by the manager to his employees when he pays him the salary.
What is included in a payslip?
The payslip includes the basic details about the employees such as basic salary, tax on salary, pension, insurance statement, net amount paid to the employee and a lot more.
Additional the monthly payslip also includes the employee's name, his designation, month of payment, date of paying the salary, signatures of the employee and employer etc.
Monthly payslip usually includes the details about the payment made to the employee after the period of 1 month. This document serves as a proof that the employee has received the salary.
In case of any dispute, the monthly pay slip can be presented as evidence that the employee was being paid on regular basis.
Benefits of using Monthly payslip:
The key benefits of this slip are:
The pay slips give the information to the company about the employees' total salary to it and the total amount paid.
It is a useful tool for all those companies that want to keep track of the money entering and leaving the business. It is a very convenient tool to keep track of cash flow.
Companies that want to know if the employees are happy with their work and salary offered by the company also avail benefits of payslip.
Use of payslip template simplifies many things in a company.
A lot of calculations are made by this template very accurately.
It retrieves all the information about the salary of the employee and print payslip in no time.
There are numerous other benefits of using monthly payslip template. If there are lots of employees in the company, it can be very time to consume for the company to prepare the payslip for every employee.
See also: Hourly paycheck calculator template
This template helps you prepare multiple payslips in a short period of time. The payslips provided by these templates are error free and accurate.
See also: Employee pay stub template
Preview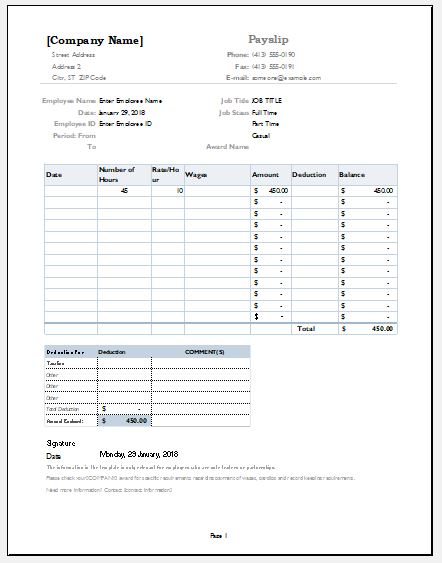 Monthly Payroll Calculator
Format: Microsoft Excel 2007-2013
File Size: 23 KB
---