The best way to make your business fit in is to make it stand out. It seems very difficult to make your company stand out from the crowd. However, in actuality, it is very easy if you know the right way to do it.
These days, SWOT (strengths, weaknesses, opportunities, and threats) analysis is very popular. We have seen many companies succeeding in their respective industries only by closely looking at how their competitors are working in the market and what is making them successful.
What is a competitor analysis worksheet using SWOT?
It is a tool that is used by businesses to monitor and observe the behavior of their competitors. They observe the strengths and weaknesses of their competitors and then adopt their strengths and try to avoid their weaknesses. This way, they can perceive the competition in the market.
Following are some of the best benefits of this spreadsheet that no one would like to ignore:
It enables a business to survive in the market:
Sometimes, new businesses have to face so fierce competition that they cannot outperform any of the competitors to win over customers.  In this situation, many businesses fail to survive and thus move towards closing.
It helps a business stand out:
The worksheet conducts the SWOT analysis and enables a business owner to know about what his competitors are not doing. This way, they do something unique and manage to stand out. Customers like to buy products from such companies that are unique and use new approaches to win the confidence of their buyers.
It helps a business prevent threats:
Many such factors are a threat to a business. If these factors are not prevented in a timely manner, they can cause serious harm to a business.
How does a competitor analysis worksheet using SWOT work?
This template uses a very popular technique which is known as SWOT analysis. It has various empty spaces where a person can record all the strengths, weaknesses, opportunities, and threats. Whether you have one competitor or multiple, mention their names in a separate field and start recording their SWOT.
This template is a remarkable tool as it allows you to look into those things that you must have ignored if you had not used this template.
Using the template:
People who don't know how to do the analysis are often found confused because they don't know how to do the analysis. At the same time, their competitors keep tabs on others and make progress. If you also start using the template to make your business successful, you will also reap fruitful results.
Remember that using the template is not enough. You should also act according to the results obtained.  Download this template and start using it after editing. You can also print it if you want to use it in the form of a hard copy.
Preview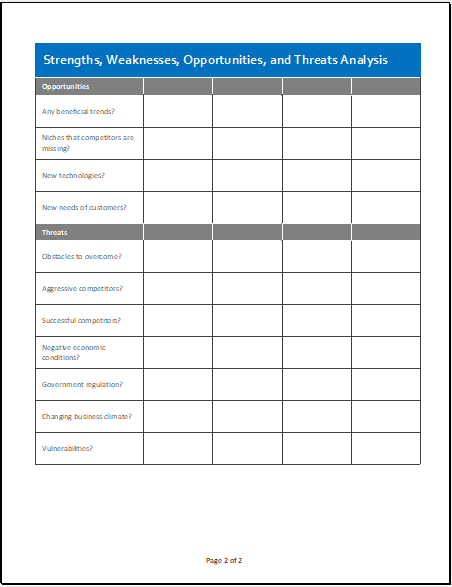 ---