Documents and records are of valuable nature to any organization and to any business. These records help in various facets of the business such as financial and legal and maintaining them is equally important. One doesn't know when a record which dates back to a couple of years might come in handy. But then again there are some documents whose value decreases with time and there needs to be a date of retention for those documents and within that date, they will be known as active documents. This would enable them to be demolished when they aren't in use or aren't considered as active documents.
In order to do this, an organization needs to maintain a record retention schedule. A Record retention schedule is a schedule which is designed by organizations and which lists down all the documents and the dates as to when they will be regarded as active documents. The reason behind maintaining of a record retention schedule can be many but the most common are for financial reasons, for legal reasons and for historical reasons as well.
A Record retention schedule should be such which has details about all the documents and serves the purpose well. It should consist of a table which has details and the names of all the documents and next to each document should be the date on which they will not be known as active documents. They can be divided into various sections or according to years to make them more convenient.
Record Retention Schedule Template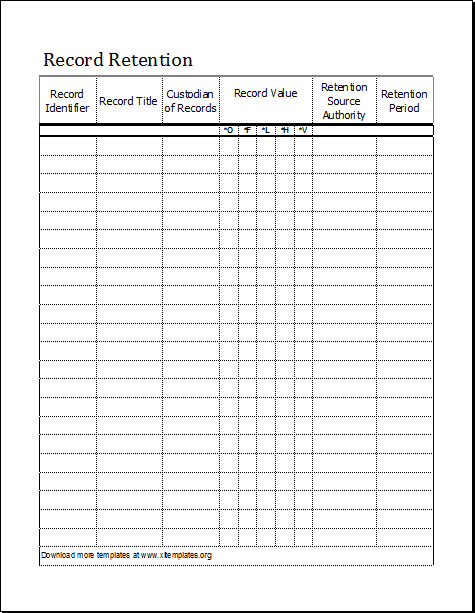 Download your file below.
File Size: 38 KB
Download
---