GPA and Grade Trackers
Knowledge is power. This seems to be a very powerful quote. Knowledge has a lot of side effects. It makes a person more decisive and wise. There was a movie in which a CIA agent was given the task of reading books to find a hidden code. By reading those books he becomes incredibly knowledgeable and finds out that the CIA is trying to kill him. The movie gives a moral that knowledge and education can help us save our lives.
The education we get should make us a better version of our self and we should learn skills that will not only help us earn money, but will also help us live a better life. Innovation has very importance in this day and age. Innovation just not happens out of the blue. It takes a lot of education and knowledge to innovate anything in your own field.
Various grading systems are used throughout the world and one of them is the GPA grading system. The GPA grading system has scored from 1 to 4, where 4 means excellent and 1 means failed. The importance of GPA cannot be denied. Every student should take their GPA very serious from day one of their college or university. Your GPA is a truly quantitative assessment of your education. It is a standard way to compare students from different universities and colleges.
A good GPA is a requirement for a good job and even a higher education scholarship as well. Once you are done with your degree and start looking out for jobs, most of the jobs advertise the minimum GPA that a student needs. Having a good GPA will enable you to aim for the best jobs. GPA does not only shows how you performed in terms of academia, but it also shows the commitment, perseverance, and time management skills of a student.
A GPA and grade tracker can be a good tool to track the performance of the students. All the subjects can be mentioned and the scores that are gained during the exams or the assignments can be mentioned against them. A description of the tests or the assignment can be written down. The overall grades will depict the performance of the student.
Getting a good grade in an examination with a high GPA is the goal of every serious student. The standard GPA scale takes 4 as the peak in most of the institutions. Obtaining this GPA at the end of the term mean you have passed with flying colors. But not all students get a perfect 4 GPA, however, a large population achieves average GPA which has to be calculated accurately by summing up your total semester's result calculations.
A high GPA will provide better job hand- full money, further education, etc. Whether you are applying for college graduate school, medical or engineering university you need to document your grade point average everywhere.
Use on-line free Grade Point Average calculator to work out your course GPA, and overall grades. The GPA calculator tool will help students to get their GPA on the relative GPA standard. A student will now aware of his/her standings among the ranking and he/she can easily estimate how much more he or she needed to build a useful GPA for each course.
Free GPA calculator templates are available on websites. Different websites are offering different styles or sometimes standard of GPA calculation. You can search and download the template that suits you and your institution. You have to fill the credit hour along with the ride for each course and the calculator will count the individual as well as total GPA for you. Next time if you find your GPA calculation completes, just log on to GPA tracker free template site to calculate your grade in a user-friendly style.
Download your file below.
Student Grade and GPA Tracker Template
File Size: 66 KB
Download
Download Also
College Credit Planner Template
preview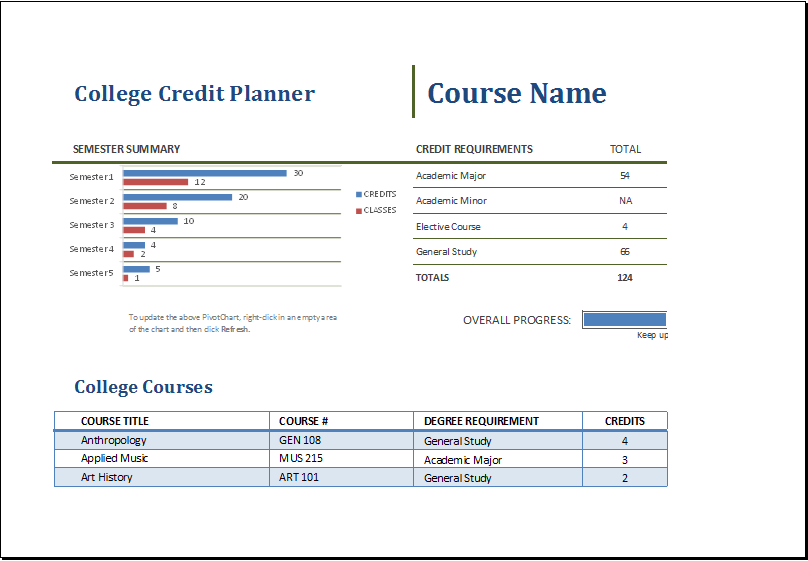 File Size: 47 KB
Download
GPA Calculator
preview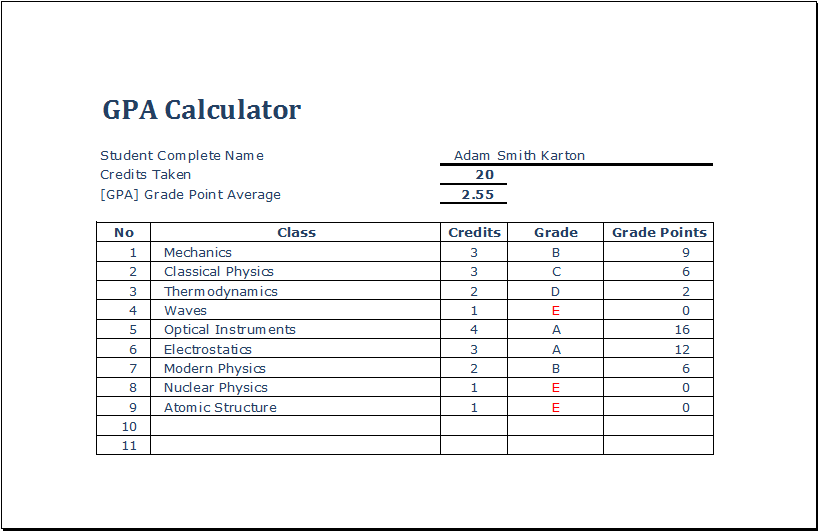 File Size: 32 KB
Download
---