Inventory Lists & Useful Templates
The inventory list can belong to any category ranging from house to offices and other organizations. It includes the items which are on the premises and the items which have to be purchased.
It will help to update the sales and purchases
It will help you if you are moving your residence, office or some other things
It is required when you claim for the loss to the insurance company
This is a comprehensive document which has to be prepared precisely. Noting the title on the top with dates. If you are going to prepare a list of existing goods then you can categorize your columns with the item name brand name if applied, price, purchase date, and timings estimated shelf life, expiry or any other specification that is mandatory. Copies of inventory list should be prepared and saved to ensure safety. A yearly or bi-annually update is essential for proper management of the inventory lists.
Your inventory list if utilized for your business then will become an evident document to save in files and therefore it should be prepared in a legal format or official record format to present it to the requisite in an official manner, however, a house inventory or informal list do not need strict formatting.
If you are not capable of sketching a professional inventory list manually you can download the free templates from the inventory list. These lists customize your details automatically and are pre-formatted to avoid the time-consuming problems. You can print the field list in an official format to present it confidently.
Download your file below.
Inventory List Template
File Size: 35 KB
Download
---
Generic List Template
The generic list template is a helpful tool to prepare a list when you are in a hurry.
There may be a situation when you are on the go and you need a list available with you to write down the details.
A list is needed in situations like
You want to go to the market for the grocery
You are going to buy stationery for your kids
You are going to purchase some medicine and you cannot remember the names
You want to make a to-do list for the upcoming day
You want to make a list of your favorite food etc.
and much more.
The given template is an Excel worksheet that is in ready to use format.
How can you have this template in quick steps?
Download the template from this page
Open the file of format (.xls) using MS Excel
Print the page
You can take a number of prints to use it later at the times you need it urgent.
Preview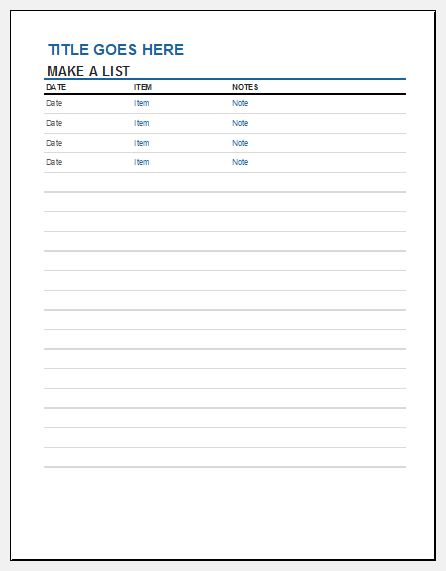 Format: MS Excel [.xlsx]
Size: 33 KB
---