A yearly budget is a synopsis of all the money you expect to earn and spend during a whole year. A yearly budget can provide an extensive view of your finances, taking into account the lopsided expenses that may accidentally occur. An annual budget requires that you estimate all of your expenses, occurring within the year. Entrepreneurs could also benefit from such planning as a yearly budget. Helps to plan your functions many months ahead, you can account for variable expenses and estimate how you can deal with your financial glitches.
Simply, a yearly budget is a tool that can help you get to your financial targets. Your budget maintenance can be a key strategy to keep your spending on track and your purpose in sight. A yearly budget worksheet could be created after figuring out your income and expenses for the entire year and then divide by 12 to catch an eye on the monthly spending. Whether you want to save for a down payment or trying to store something for retirement, a budget is a supportive tool to advance sensibly in the expenditures.
A comprehensive budget can help you design your various expenses. Generally, short-term monthly expenses; mid-term expenses occurring in between one month and a year; and long-term expenses having a length of more than a year all could be controlled. Either it is your monthly bills and normal purchases. Or your vacation plan everything can be managed swiftly through a yearly budget planning. You can take assistance from the pre-designed yearly budget worksheet templates to have a facilitated yearly budget planner.
Preview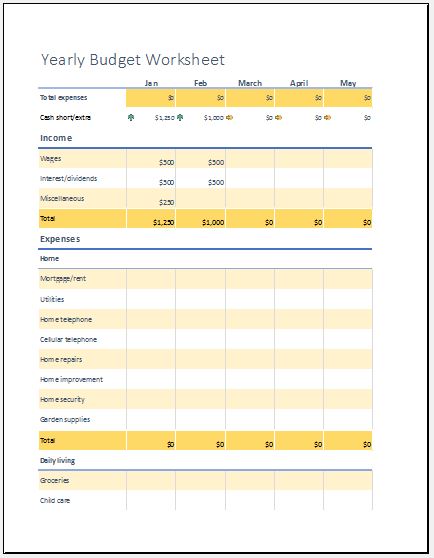 Yearly Budget Worksheet Template
Format: MS Excel 2003 & Later
---
---