Despite uncountable strategies in business marketplace assessment, still business owners find themselves parched in search of real guidance, therefore several innovative tools have been introduced to check the business status comprehensively. One of these is the strategy canvas tool. W.Chan Kim and Renee Mauborgne have introduced this tool in their book Blue Ocean Strategy as a graphic chart plotting business competitors against the marketplace winning factors. The horizontal line demonstrates the competitive factors while the vertical axis displays a level of services and offers by different businesses.
The graph represents the divergence in market demands and business strategies. A new value is determined through this strategy canvas. The value curve is the fundamental findings of the strategy canvas. It is a graphic illustration of a business relative performance diagonal to the factors of competition. Strategy Canvases provide a track of interpreting that with what strategies your competitors attract customers; additionally, it identifies that how your customers prefer the product or service in your category.
This allows you to stand uniquely in the market by applying exclusive genre and combination of factors on which you can compete successfully. If you are vigilant enough to identify your rivals or competitors either by brand names or by a cluster of entrepreneurs working in the similar field, of your business and you are expert enough to bring innovative competitive factors, then you can effectively analyze the competition. For a workable analysis, a strategic canvas chart should be practically drawn with a line for each competitor and their performance according to the customer's preferable factors.
This sketching is a bit complex procedure, therefore, many business people are taking help from pre- formatted customized templates to draw their Strategy Canvas Graphics.
Download your file below.
Strategy Canvas Template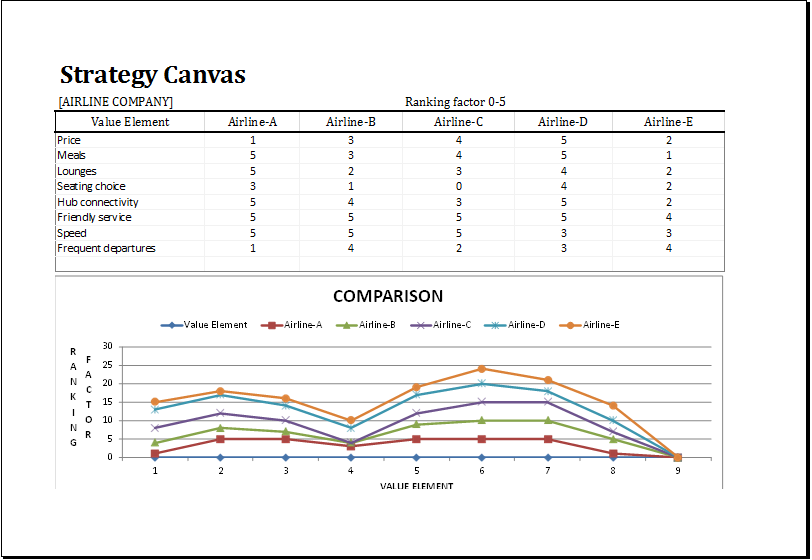 File Size: 37 KB
Download
Strategy Canvas Template-2

File Size: 63 KB
Download
---