Saving Estimator
You can keep track of the growth of investment over time. With the help of this estimator, you can estimate the time in which you can save a specific amount of money. The saving estimator helps the person in setting his goals of saving, and it also allows the person to figure out that how much amount he needs to keep at different intervals to save the amount set in the goal.
Details to be included in the saving estimator:
The cost in the start that you have in your hand for contributing to the total amount in your account.
The amount that you will deposit each month to your account. The amount that you want to deposit each month ultimately depends on the total income.
Estimate the annual interest that you will earn on the money deposited in the account. It should also be specified if the interest will be received on monthly basis or annual basis.
Some years in which you want to save money.
The rate of inflation should also be specified in this estimator.
The time interval after which each deposition will be done.
Estimating the saving in a specific amount of time can be done easily if you have set your saving goals. Establishing the goals for saving allows you to be more accelerated towards your goals.
Saving estimator template:
The template of saving estimator is handy for those people who want to save their time and to estimate the amount of money that they will be able to save in a specific period. You can get a readymade and easy to use saving estimator template from this website and download it free of cost.
The details mentioned in the estimator are easy to understand. The highly customizable saving estimator makes it easy for the users of different demands and requirements. The user can download it once and then can use it over and over again.
Preview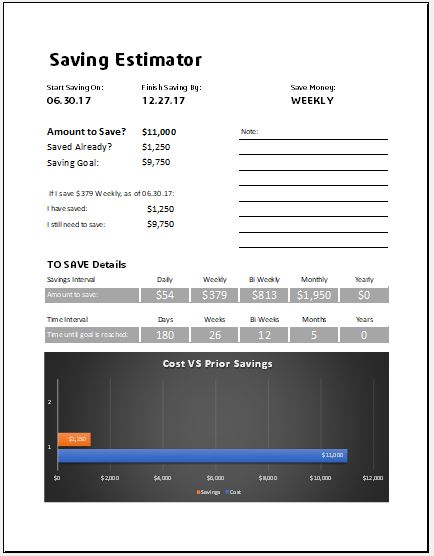 Saving Estimator Template
File: Excel (.xls) 2003 & Later 
Size 25 Kb | Download
[Personal Use Only]
---
---