WINE COLLECTION
For a restaurant or for a business dealing in the food business, having and selling liquor is crucial, be it of any kind. This is because, without liquor, many people feel that their food is incomplete if they don't have something to drink with it. Making sure that the restaurant or the cafe has the right amount of liquor and has the specific kind of liquor is important. That is why they have a separate liquor inventory which they see and maintain on an everyday basis and sell it from there. They need to make sure that the inventory is being maintained and for that, they make use of a liquor inventory sheet which consists of details of every kind of liquor that is present in the liquor inventory of the cafe or restaurant.
EXCEL WORKSHEETS
This Liquor inventory sheet consists and mentions details about the liquor such as the price of the liquor, the date of the liquor, how many quantity or bottles does the restraint or the cafe have remaining, how much is the demand and how many should be supplied, if there is a shortage or an excess etc.
These details are to be mentioned in the rows and columns of the liquor inventory sheet and should be filled on a regular basis to keep an organized and a neat check of the liquor inventory. Because various cafes and restaurants don't have the time to make a new or fresh Liquor inventory sheet every time they need it, they make use of a liquor inventory sheet template.
LIQUOR INVENTORY SHEET TEMPLATE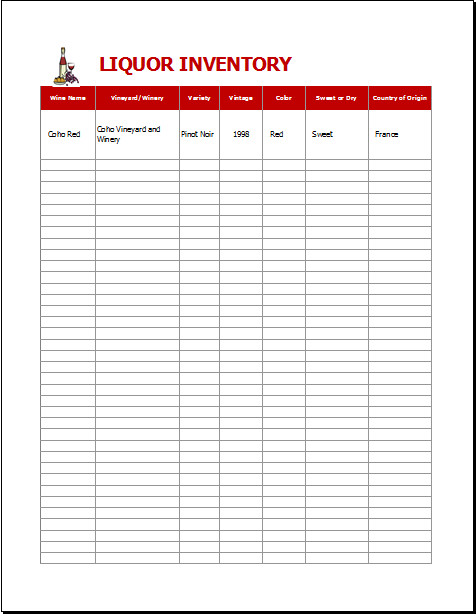 Download your file below.
File Size: 34 KB
Download
---