HOME RENOVATION OR REMODELING
Many people who have their own houses wish to renovate their humble abodes so that they can be as good as new and want to have some change in their houses. They want to renovate how it looks, how it feels and etc. and just give it a whole new look. Renovations are included in the maintenance and it gives the house a change or a makeover. But these renovations can be a lot of work and a lot of hassle, and if one doesn't plan accordingly, the house that one wanted could look like the house that one never wanted.
This is why every aspect of the renovation is to be considered, such as the budget about each and everything, the complete and final look, the tools and resources that are going to be needed, the labor that will be needed and the time that will be taken. For this, it is advised that a home renovation model template is used which is a holistic planner that helps in planning each and every aspect of the renovation and comes in handy.
EXCEL TEMPLATES
To make the home renovation model template easy, one should write down each and everything and then even subdivide it so that it can be easier to tackle. One can even color coordinate so that the whole home remodeling model template is easier to handle and one can comprehend the whole home renovation model template. It is best if one takes a week or two to make it avoid forgetting anything at the last moment.
HOME RENOVATION MODEL TEMPLATE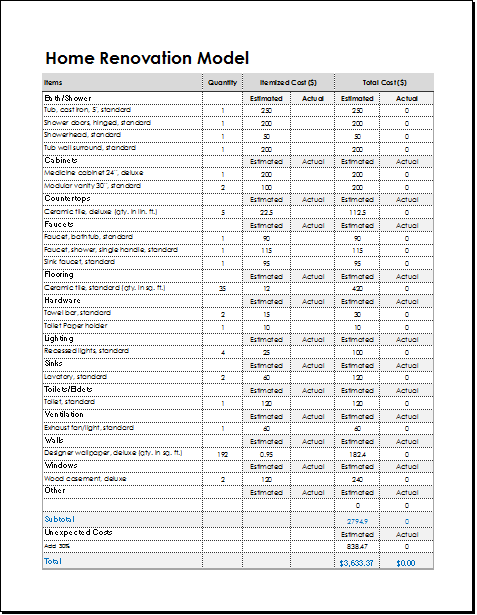 Download your file below.
File Size: 33 KB
Download
---