FUNDS TRACKING
For an organization or for a company funds are the most crucial thing. These funds help the organization to function on an everyday basis and conduct business and these funds help in maintaining various business relations which are crucial to surviving in the competitive world. This is why an organization needs to keep an eye on each and every fund that is to be paid or is to be received so it can keep a better check on its functions. Apart from this, an organization needs to keep a keen eye on the funds because at the end of the year the audit company will come in and check the various funds and happenings in the organization.
BALANCE SHEET FORMATS
This is why an organization makes use of funds tracking balance sheet which helps the organization or the business in keeping a close eye on the funds. This Funds tracking balance sheet is a sheet in which each and every aspect of the fund is to be mentioned such as the amount, the receiver, and the sender or the fund (and their details), each and every step the fund that passed and whether or not if it is in the right hands or not. Even details regarding as to why the fund is needed to being sent are to be mentioned in this balance sheet.
An organization needs to make sure that the funds tracking balance sheet are organized and neat so that it is easy to comprehend and understand.
FUNDS TRACKING BALANCE SHEET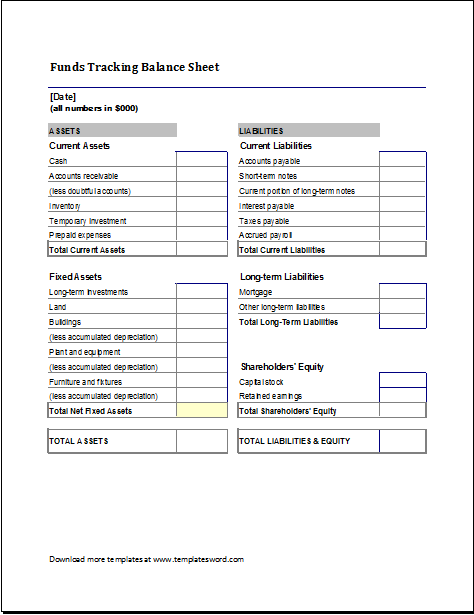 Download your file below.
File Size: 32 KB
Download
---