EXPENSE CLAIMS
There are many times when an employee or a staff member pays something out of his [own] pocket for the time being for the organization. The thing or the entity that the staff member is paying for should be paid by the organization but because of urgency or unavailability of the budget, the employee or the staff member pays it from his or her own pocket. Down the road or a few days after the employee or the staff member asks for a reimbursement from the organization. This reimbursement can be sought from the organization after filling out an expense claim form.
An expense claim form is a form which is to be filled out when the organization has to reimburse the employee for expenses that were paid by the staff member or the employee. This form consists of details of the employee such as the name of the employee, the designation, the job and etc. and the type of payment that has been made and what event was that which caused the employee to pay from his own pocket.
CLAIM FORMS
The form that is made in use by the organization is a template since the organization cannot afford to make a form from scratch. Many organization also include a section where the employee has to attach the receipt of the payment. This section is known as the proof section which gives the organization proof of the payment. This form is to be filled by the employer and submitted to the accounts department.
EXPENSE CLAIM FORM TEMPLATE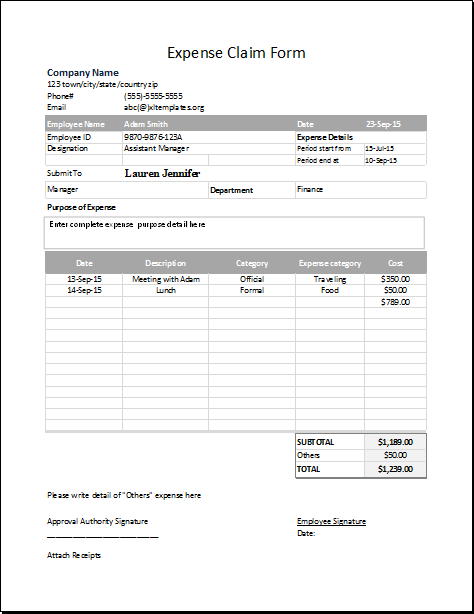 Download your file below.
File Size: 42 KB
Download
---